This month's recommendations post I'm going to be talking about YA books set in college. I love seeing more YA books coming out set in college, they bring a whole new set of experiences to draw from and I couldn't be happier that more are coming out. This recommendations post will be a mix of books I've read and ones on my TBR. So here are 10 YA books set in college.
---
Down and Across by Arvin Ahmadi | Scott Ferdowsi has a track record of quitting. Writing the Great American Novel? Three chapters. His summer internship? One week. His best friends know exactly what they want to do with the rest of their lives, but Scott can hardly commit to a breakfast cereal, let alone a passion.
With college applications looming, Scott's parents pressure him to get serious and settle on a career path like engineering or medicine. Desperate for help, he sneaks off to Washington, DC, to seek guidance from a famous professor who specializes in grit, the psychology of success.
He never expects an adventure to unfold out of what was supposed to be a one-day visit. But that's what Scott gets when he meets Fiora Buchanan, a ballsy college student whose life ambition is to write crossword puzzles. When the bicycle she lends him gets Scott into a high-speed chase, he knows he's in for the ride of his life. Soon, Scott finds himself sneaking into bars, attempting to pick up girls at the National Zoo, and even giving the crossword thing a try–all while opening his eyes to fundamental truths about who he is and who he wants to be.
This just sounds like a lot of fun and I am also an indecisive person, so I feel like I'll be able to relate to Scott
---
Finding Felicity by Stavey Kade | Caroline Sands has never been particularly good at making friends. And her parents' divorce and the move to Arizona three years ago didn't help. Being the new girl is hard enough without being socially awkward too. So out of desperation and a desire to please her worried mother, Caroline invented a whole life for herself—using characters from Felicity, an old show she discovered online and fell in love with.
But now it's time for Caroline to go off to college and she wants nothing more than to leave her old "life" behind and build something real. However, when her mother discovers the truth about her manufactured friends, she gives Caroline an ultimatum: Prove in this first semester that she can make friends of the nonfictional variety and thrive in a new environment. Otherwise, it's back to living at home—and a lot of therapy.
Armed with nothing more than her resolve and a Felicity-inspired plan, Caroline accepts the challenge. But she soon realizes that the real world is rarely as simple as television makes it out to be. And to find a place where she truly belongs, Caroline may have to abandon her script and take the risk of being herself.
This was a super fun and pop culture-y read. Perfect for summer!
---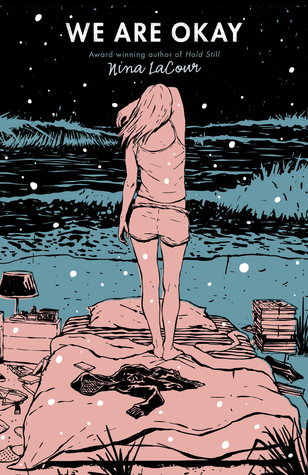 We Are Okay by Nina LaCour | Marin hasn't spoken to anyone from her old life since the day she left everything behind. No one knows the truth about those final weeks. Not even her best friend, Mabel. But even thousands of miles away from the California coast, at college in New York, Marin still feels the pull of the life and tragedy she's tried to outrun. Now, months later, alone in an emptied dorm for winter break, Marin waits. Mabel is coming to visit, and Marin will be forced to face everything that's been left unsaid and finally confront the loneliness that has made a home in her heart
I tried to read this once and I was so not feeling it, but it's such a beautiful book and I know TONS of people love it and it's so cahracter driven which is my jam,  I definitely want to give it another shot.
---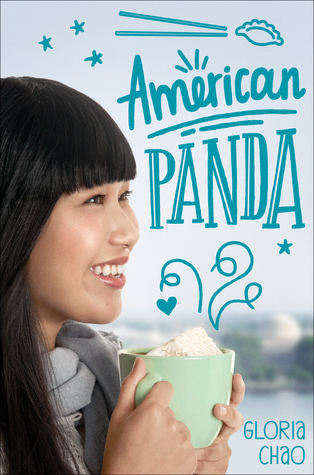 American Panda by Gloria Chao | At seventeen, Mei should be in high school, but skipping fourth grade was part of her parents' master plan. Now a freshman at MIT, she is on track to fulfill the rest of this predetermined future: become a doctor, marry a preapproved Taiwanese Ivy Leaguer, produce a litter of babies.
With everything her parents have sacrificed to make her cushy life a reality, Mei can't bring herself to tell them the truth–that she (1) hates germs, (2) falls asleep in biology lectures, and (3) has a crush on her classmate Darren Takahashi, who is decidedly not Taiwanese.
But when Mei reconnects with her brother, Xing, who is estranged from the family for dating the wrong woman, Mei starts to wonder if all the secrets are truly worth it. Can she find a way to be herself, whoever that is, before her web of lies unravels?
Mei is basically the greatest and this book is worth it just to meet her.
---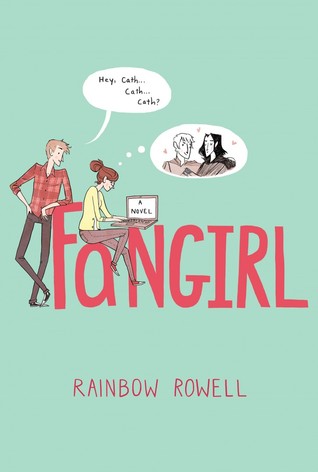 Fangirl by Rainbow Rowell |  Cath is a Simon Snow fan. Okay, the whole world is a Simon Snow fan… But for Cath, being a fan is her life—and she's really good at it. She and her twin sister, Wren, ensconced themselves in the Simon Snow series when they were just kids; it's what got them through their mother leaving. Reading. Rereading. Hanging out in Simon Snow forums, writing Simon Snow fan fiction, dressing up like the characters for every movie premiere.
Cath's sister has mostly grown away from fandom, but Cath can't let go. She doesn't want to.
Now that they're going to college, Wren has told Cath she doesn't want to be roommates. Cath is on her own, completely outside of her comfort zone. She's got a surly roommate with a charming, always-around boyfriend, a fiction-writing professor who thinks fan fiction is the end of the civilized world, a handsome classmate who only wants to talk about words… And she can't stop worrying about her dad, who's loving and fragile and has never really been alone.For Cath, the question is: Can she do this? Can she make it without Wren holding her hand? Is she ready to start living her own life? Writing her own stories?
And does she even want to move on if it means leaving Simon Snow behind?
I actually didn't really like this one, but I know so many people conenct with Cath.
---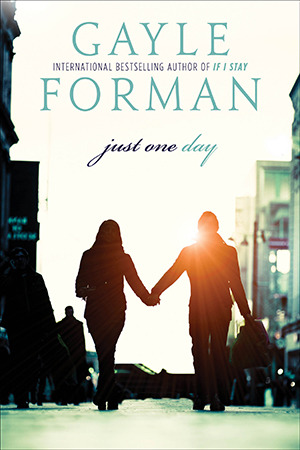 Just One Day by Gayle Forman | When sheltered American good girl Allyson "LuLu" Healey first meets laid-back Dutch actor Willem De Ruiter at an underground performance of Twelfth Night in England, there's an undeniable spark. After just one day together, that spark bursts into a flame, or so it seems to Allyson, until the following morning, when she wakes up after a whirlwind day in Paris to discover that Willem has left.
Over the next year, Allyson embarks on a journey to come to terms with the narrow confines of her life, and through Shakespeare, travel, and a quest for her almost-true-love, to break free of those confines. 
This might have been the first college YA I ever read and it remains one of my favorites. It such a love letter to self-discovery and finsing your own happiness.
---
A Little Something Different by Sandy Hall | The creative writing teacher, the delivery guy, the local Starbucks baristas, his best friend, her roommate, and the squirrel in the park all have one thing in common—they believe that Gabe and Lea should get together. Lea and Gabe are in the same creative writing class. They get the same pop culture references, order the same Chinese food, and hang out in the same places. Unfortunately, Lea is reserved, Gabe has issues, and despite their initial mutual crush, it looks like they are never going to work things out.  But somehow even when nothing is going on, something is happening between them, and everyone can see it. Their creative writing teacher pushes them together. The baristas at Starbucks watch their relationship like a TV show. Their bus driver tells his wife about them. The waitress at the diner automatically seats them together. Even the squirrel who lives on the college green believes in their relationship. 
Surely Gabe and Lea will figure out that they are meant to be together….
This was such a unique and cute story. I loved how it was so different, but I still felt invested in Gabe and Lea's romance. This is purely a romance so if you're looking for more, I'd steer clear.
---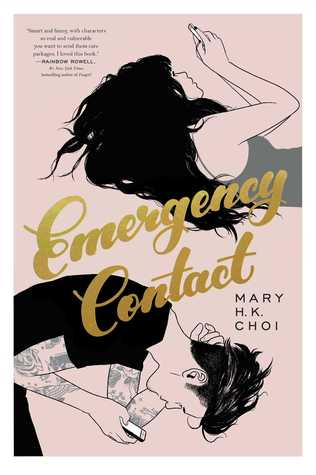 Emergency Contact by Mary H.K. Choi | For Penny Lee high school was a total nonevent. Her friends were okay, her grades were fine, and while she somehow managed to land a boyfriend, he doesn't actually know anything about her. When Penny heads to college in Austin, Texas, to learn how to become a writer, it's seventy-nine miles and a zillion light years away from everything she can't wait to leave behind.
Sam's stuck. Literally, figuratively, emotionally, financially. He works at a café and sleeps there too, on a mattress on the floor of an empty storage room upstairs. He knows that this is the god-awful chapter of his life that will serve as inspiration for when he's a famous movie director but right this second the seventeen bucks in his checking account and his dying laptop are really testing him. 
When Sam and Penny cross paths it's less meet-cute and more a collision of unbearable awkwardness. Still, they swap numbers and stay in touch—via text—and soon become digitally inseparable, sharing their deepest anxieties and secret dreams without the humiliating weirdness of having to see each other.
The most recent college YA book added to my TBR! The cover is just so stunning and this sounds like it as so much heart!
---
Let's Talk About Love by Clarie Kann | Alice had her whole summer planned. Non-stop all-you-can-eat buffets while marathoning her favorite TV shows (best friends totally included) with the smallest dash of adulting–working at the library to pay her share of the rent. The only thing missing from her perfect plan? Her girlfriend (who ended things when Alice confessed she's asexual). Alice is done with dating–no thank you, do not pass go, stick a fork in her, done.
But then Alice meets Takumi and she can't stop thinking about him or the rom com-grade romance feels she did not ask for (uncertainty, butterflies, and swoons, oh my!).
When her blissful summer takes an unexpected turn, and Takumi becomes her knight with a shiny library employee badge (close enough), Alice has to decide if she's willing to risk their friendship for a love that might not be reciprocated—or understood.
Alice is such an amazingly relateable MC and her and Takumi are one of the clutest couples I've read in YA recently.
---
Nice Try, Jane Sinner by Lianne Oelke | The only thing 17-year-old Jane Sinner hates more than failure is pity. After a personal crisis and her subsequent expulsion from high school, she's going nowhere fast. Jane's well-meaning parents push her to attend a high school completion program at the nearby Elbow River Community College, and she agrees, on one condition: she gets to move out.
 Jane tackles her housing problem by signing up for House of Orange, a student-run reality show that is basically Big Brother, but for Elbow River Students. Living away from home, the chance to win a car (used, but whatever), and a campus full of people who don't know what she did in high school… what more could she want? Okay, maybe a family that understands why she'd rather turn to Freud than Jesus to make sense of her life, but she'll settle for fifteen minutes in the proverbial spotlight. 
As House of Orange grows from a low-budget web series to a local TV show with fans and shoddy T-shirts, Jane finally has the chance to let her cynical, competitive nature thrive. She'll use her growing fan base, and whatever Intro to Psychology can teach her, to prove to the world—or at least viewers of substandard TV—that she has what it takes to win.
This wasn't a favorite read, but I loved seeing a community college setting, ecause that's even more rare! And there's plenty of nihlistic humore from Jane that was really entertaining as well.
---
I promise I didn't mean to semi color-group the books, it was a happy accident.
What are some of your favorite college YA books? Have you read any of these? Share below!