First Lines Fridays is a weekly feature for book lovers hosted by Wandering Words. What if instead of judging a book by its cover, its author or its prestige, we judged it by its opening lines?
Pick a book off your shelf (it could be your current read or on your TBR) and open to the first page
Copy the first few lines, but don't give anything else about the book away just yet – you need to hook the reader first
Finally… reveal the book!
---
THE LAST NIGHT the Garrisons set foot inside the Tenney's Harbor Country Club, the windows were laced with snow. The weather report called for six to eight inches by morning, and three already lay crisp and untouched across the western expanse of lawn beyond the glass.
FIND OUT THE BOOK BELOW!!!
↓   ↓   ↓   ↓   ↓
↓   ↓   ↓   ↓   ↓
↓   ↓   ↓   ↓   ↓
↓   ↓   ↓   ↓   ↓
↓   ↓   ↓   ↓   ↓
---
The Lies They Tell

by

Gillian French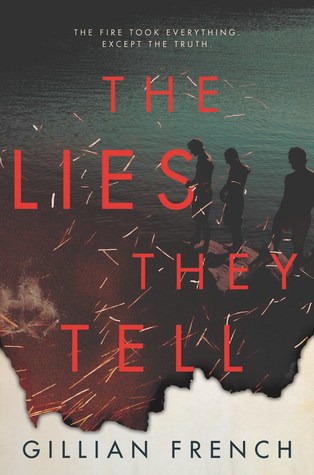 This just sounds really intriguing to me and I'm kind of in an inbetween mood where I don't really want to read a contemporary and I don't want to read another fantasy, so mystery it is!
The first lins sounds so atmospheric and I can't wait to see how the rest of the story unfolds.
---
Goodreads synopsis: Everyone in Tenney's Harbor, Maine, has heard of the Garrison tragedy. A mysterious fire. A family of five reduced to one. For people like Pearl Haskins—whose dad was the caretaker of the Garrison property when the house went up in flames—the whispers about that night are more than upsetting. They hurt. With her disgraced father now trying to find steady work in between booze benders, Pearl is stuck waiting tables at the town's country club where the rich townspeople come in the summer to flaunt their money and gossip about one another.
This year, a group of privileged boys has made a point of sitting in Pearl's section—throwing careless insults her way while also attempting to flirt. Though she's repulsed by everything they stand for, she's drawn to the quiet leader of the pack, Tristan—the last surviving Garrison. He wasn't home the night a blaze took his entire family, and the sadness coming off him in waves is hard to ignore. Befriending the summer boys might irk her to her core, but inside their fold of elite parties and reckless whims could be answers to what happened the night of the fire. And that's just what she finds.
Hidden beneath the glittering façade of wealth and luxury, Pearl discovers a dark and twisted web of lies and betrayals that, once untangled, will leave no life in Tenney's Harbor unchanged. That is…if it doesn't take Pearl's first.
---
What's your favorite type of mystery story? Do you like small-town settings rooted in family? Or urban true crime kinda stories? Share below!