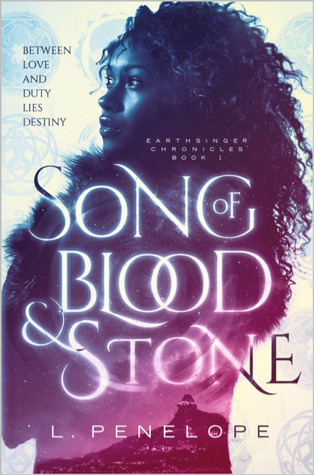 Title: Song of Blood and Stone (Earthsinger Chronicles #1)
Author: L. Penelope
Rating: ★★★☆☆
Publisher: St. Martin's Press
Release Date: May 1, 2018
"Said the Master of Jackals to the soldier, 'A victorious warrior fights for one of three things: a righteous cause, a broken heart, or a noble death.'"
---
Song of Blood and Stone was unexpected. I knew I was getting a fantasy story about power struggles, destiny, and a bit of romance thrown in. I wasn't expecting modern social commentary to be weaved effortlessly and poignantly into this historical fantasy. Song of Blood and Stone follows Jasminda, an outcast Earthsinger, who teams up with Jack, an injured spy, to heal their warring Country and discover the mysterious secrets surrounding the Queen Who Sleeps.
---
Things I Liked 
I mentioned it above, but I really enjoyed the social commentary that was present throughout the book. Penelope tackles topics like immigration and refugee rights, racism, oppression, and controlled media. Though these topics are explored in the fantasy setting, they clearly draw from real-world issues. I though the issues were handled with care and addressed, but never belittled. The story also never got preachy, which I appreciated.
The prologue hooked me from the start, along with the folktale quotes at the beginning of the chapters (which if you know me, is no surprise I loved them!) created this fantastical atmosphere that was easy to get lost in.
I really liked the flashback visions we get of Oola, Yllis, and Eeron. I feel like they not only helped establish the worldbuilding and history of Elsira and Lagamira, but also established tension and conflict between the countries that made the actions seem authentic.
---
Things I Didn't Like 
I personally found the romance to be a little heavy handed, especially in the beginning of the story. Jasminda and Jack have an almost too perfect relationship. There wasn't anything bad about their romance, but I didn't find myself swooning either. The story was also heavily romance-leaning. I'd say it felt more like a romance in a fantasy setting thana fantasy story with a romance in it.
The writing didn't grab me the way I wanted it too. I thought it was a little simplistic and focused. I didn't feel like it 'set the scene' for the story, the scene was already there and the story was just happening over it. I don't need super flowery prose to be invested in a story, but I would have liked more. Especially because I loved the Folktale collections that created a fantastical element, but otherwise there wasn't much.
I thought the end battle was a little too easy. While I appreciate the tension setup, I feel like it was over too quickly to have a meaningful or successful payoff.
---
Song of Blood and Stone was a fun fantasy surprise with a surprising amount of depth. I enjoyed the worldbuilding and many of the personal moments that allow the characters to shine. Song of Blood and Stone is a story about power struggles, destiny, and conviction.
Trigger warning for attempted rape and sexual assualt
I received a copy of the book from St. Martin's Press via Netgalley in exchange for an honest review.
---
Are you excited to read SONG OF BLOOD AND STONE? Share below!