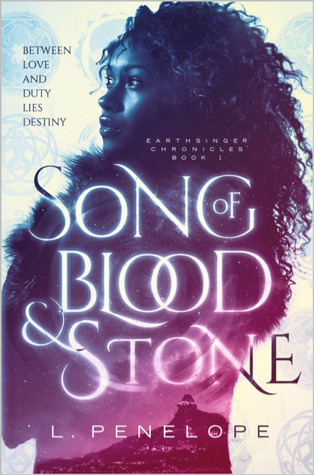 Title: Song of Blood & Stone (Earthsinger Chronicles #1)
Author: L. Penelope
Release Date: May 1, 2018
Publisher: St. Martin's Press
"Penelope delivers an engrossing story with delightful characters in this fantastic opening to a promising series." – Publishers Weekly, STARRED Review
Synopsis
Orphaned and alone, Jasminda lives in a land where cold whispers of invasion and war linger on the wind. Jasminda herself is an outcast in her homeland of Elsira, where her gift of Earthsong is feared. When ruthless soldiers seek refuge in her isolated cabin, they bring with them a captive–an injured spy who threatens to steal her heart.
Jack's mission behind enemy lines to prove that the Mantle between Elsira and Lagamiri is about to fall nearly cost him his life, but he is saved by the healing Song of a mysterious young woman. Now he must do whatever it takes to save Elsira and it's people from the True Father and he needs Jasminda's Earthsong to do it. They escape their ruthless captors and together they embark on a perilous journey to save Elsira and to uncover the secrets of The Queen Who Sleeps.
Thrust into a hostile society, Jasminda and Jack must rely on one another even as secrets jeopardize their bond. As an ancient evil gains power, Jasminda races to unlock a mystery that promises salvation.
The fates of two nations hang in the balance as Jasminda and Jack must choose between love and duty to fulfill their destinies and end the war.
---
Excerpt
Chapter Two
Jack had found himself in a great many hopeless situations in his life, but this one was the grand champion—a twenty­-two­ year rec­ord for dire occurrences. He only hoped this wouldn't be the last occurrence and sent up yet another prayer that he might live to see
his twenty-third year.
The temperature had dropped precipitously. His spine was as­ saulted by the rocky ground on which he lay, but really that was the least of his discomforts.
His vision had begun to swim about an hour ago, and so at first he thought the girl looming above him was a mirage. She peered down at his hiding spot behind a cluster of coarse shrubbery, her head cocked at an angle. Jack went to stand, years of breeding kick­ing in, his muscle memory ofended at the idea of not standing in the presence of a lady, but apparently his muscles had forgotten the bullet currently lodged within them. And the girl was Lagrimari— not strictly a lady, but a woman nonetheless—and a beautiful one, he noticed as he squinted into the dying light. Wild, midnight curls
floated carelessly around her head, and piercing dark eyes regarded him. Her dress was drab and tattered, but her smooth skin was a confectioner's delight. His stomach growled. When was the last time he'd eaten?
Her presence meant he was still on the Lagrimari side of the mountain range bordering the two lands and had yet to cross the other, more powerful barrier keeping him from his home of Elsira: the Mantle.
The girl frowned down at him, taking in his bedraggled appear­ ance. From his position lying on the ground, he tried his best to smooth his ripped uniform, the green fatigues of the Lagrimari army. Her confusion was apparent. Jack was obviously Elsiran; aside from his skin tone, the ginger hair and golden honey­colored eyes were a dead giveaway. And yet he wore the uniform of his enemy.
"Please don't be scared," he said in Lagrimari. Her brows rose toward her hairline as she scanned his supine and bloodied body. Well, that was rather a ridiculous thing to say. "I only meant that I mean you no harm. I . . ." He struggled with how to explain him­
self.
There were two possibilities. She could be a nationalist who would turn him in to the squad of soldiers currently combing the mountain for him, perhaps to gain favor with the government, or she could be like so many Lagrimari citizens, beaten down by the
war with no real loyalty to their dictator or his thugs. If she was the former, he was already dead, so he took a chance with the truth.
---
What Others are Saying
"This debut, which won the Black Caucus of the American Library Association Self-Publishing Award, shines a bright light into epic fantasy. Battle-scarred lands and peoples, ancient powers at war, star-crossed loves and hints of racial and refugee themes gives this a solid place on library shelves." —Library Journal, STARRED review
"Prepare to be hooked. SONG OF BLOOD & STONE is brimming with captivating lore, unique magic, and plot-turns you never saw coming. L. Penelope has written your next fantasy obsession." —Elise Kova, USA Today bestselling author of The Loom Saga
"Set against a backdrop of myth and magic, SONG OF BLOOD & STONE is a sweeping tale of love, duty and destiny that feels as urgent as it does timeless." —Rebecca Roanhorse, author of TRAIL OF LIGHTNING
"SONG OF BLOOD & STONE is an enchanting journey through a world more relevant than ever. Wars between Gods, romance, action—it's everything I love all at once."
—K Arsenault Rivera, author of THE TIGER'S DAUGHTER
"SONG OF BLOOD & STONE is a thrilling and complex journey through a beautifully rendered world that is imaginative, magical, and eerily similar to our own. A terrific read!" —Daniel Jose Older, New York Times bestselling author
"Great characters, beautiful writing, incredible world building."
—Ann Aguirre, New York Times Bestselling Author
---
About the Author
Leslye Penelope has been writing since she could hold a pen and loves getting lost in the worlds in her head. She is an award-winning author of new adult, fantasy, and paranormal romance. She lives in Maryland with her husband and their furry dependents: an eighty-pound lap dog and an aspiring feral cat.
Website | Twitter | Goodreads | Instagram | Facebook | Youtube
---
Are you excited about SONG OF BLOOD AND STONE? Does this not sound like it has every fantasy element you want! Make sure you grab your copy today.