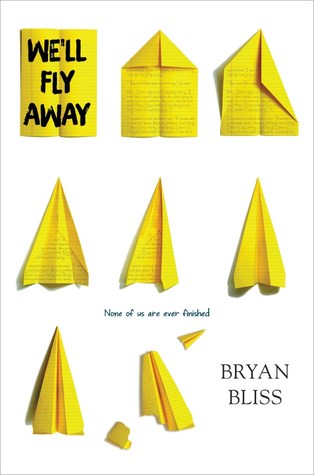 Title: 
We'll Fly Away
Rating: ★★★★☆
Publisher: Greenwillow Books
Release Date: May 8, 2018
"We are not living in a world that stands still."
---
I  have feelings after reading this books. Not bad feelings or even good ones, just a lot of feelings. This book definitely pulls at your heart and leaves an impact. It's so much a character study of friendship and the messiness of life. It's almost overwhelming, but in a good way. We'll Fly Away follows best friends Luke and Toby living in their small North Carolina town. We see their friendship, their fights, and what happens when it all goes horribly wrong.
---
Things I Liked 
The story really is just a snapshot of a life. It's earnest, honest, and exposed. I love stories about friendship and We'll Fly Away delivered in showcasing the dependency, the anger, and the love between these two in a heartfelt and painful way.
I LOVED the letters that Luke wrote to Toby. It not only added a cool timeline element to the story, but I enjoyed getting to know him more and really get into his mindset.
---
Things I Didn't Like 
I wasn't the biggest fan of the romances in the story, and they unfortunately got more prevalent as the story progressed. I honestly thought they were not needed at all.
---
I feel like We'll Fly Away is almost painful to read. (Yes, I did cry) I don't know if it's something you can really enjoy, so much as just the story that's being told and the lives these characters have lived. The story feels personal, so it was really easy to complete invest yourself. If you're looking for a reading experience that will leave you thinking and feeling something, look no further than We'll Fly Away.
I received a copy of the book from Harper Collins via Edelweiss in exchange for an honest review.