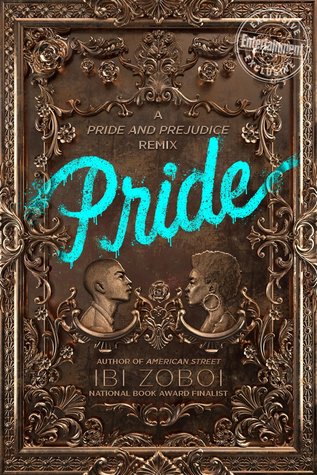 Title: Pride
Author: Ibi Zoboi
Release Date: September 18, 2018
Publisher: Balzer + Bray
---
Synopsis
Zuri Benitez has pride. Brooklyn pride, family pride, and pride in her Afro-Latino roots. But pride might not be enough to save her rapidly gentrifying neighborhood from becoming unrecognizable.
When the wealthy Darcy family moves in across the street, Zuri wants nothing to do with their two teenage sons, even as her older sister, Janae, starts to fall for the charming Ainsley. She especially can't stand the judgmental and arrogant Darius. Yet as Zuri and Darius are forced to find common ground, their initial dislike shifts into an unexpected understanding.
But with four wild sisters pulling her in different directions, cute boy Warren vying for her attention, and college applications hovering on the horizon, Zuri fights to find her place in Bushwick's changing landscape, or lose it all.
---
Why I'm Excited
Retellings are the greatest and I llove them 99% of the time. And as I'm not the biggest fan of classics, I usually judge how much I'd want to rread them by the retellings I read. And so far, Pride & Prejuice retellings have never let me down.
So many amazing and complex issues layered seemlessly over the backbone of a classic novel. I love that PRIDE explores genrification and class  within the story!
The cover is so guilded and beautiful.
---
Are excited for PRIDE? What's your favorite PRIDE & PREJUDICE retelling? Share below!