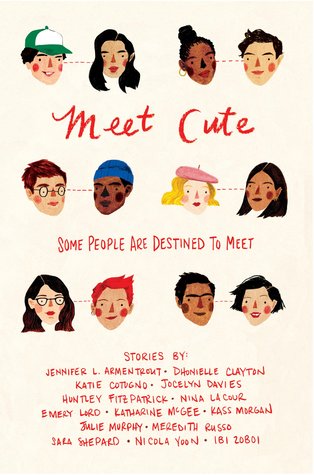 Title: Meet Cute: Some People Are Destined to Meet
Edited By: Jennifer L. Armentout 
Rating: ★★★★☆
Publisher: HMH Teem
Release Date: January 2, 2018
"Some people you want to get to know, and some people you want to know you."
---

I don't think I've ever been truly disappointed by an anthology. Sure, there have been a few stories that I didn't like, but overall I tend to enjoy them. Meet Cute is another solid entry into the anthology category filled with sweet moments, fantastic banter, and romance to prove that love isn't dead.
Average Rating: 3.43
Most Excited For Before Reading: Siege Etiquette by Katie Cotugno; Print Shop by Nina LaCour; The Dictionary of You and Me by Jennifer L. Armentrout; The Department of Dead Love by Nicola Yoon
Favorite Stories: Click by Katharine McGee; The Way We Love Here by Dhonielle Clayton; Oomph by Emery Lord; The Unlikely Likelihood of Falling in Love by Jocelyn Davies; The Department of Dead Love by Nicola Yoon
Least Favorite Stories: Say Everything by Huntely Fitzpatrick; The Intern by Sara Shepard; 259 Million Miles by Kass Morgan
---
Siege Etiquette by Katie Cotugno | ★★★☆☆ (3.5 Stars)
I think this was a good opener for the anthology. It wasn't anything overly amazing/new all-time favorite, but I liked it and thought the meet cute was good. Hailey is a popular party girl on the reform after her parents died. When she's at her best friends house party, she hides in the bathroom to avoid the cops and meets Wolf. They do have tension and a bit of angst before they actually start to talk to one another. Cotugno's character just always seem so real to me, which I always enjoy.
---
Print Shop by Nina LaCour | ★★★☆☆
Evie gets a new job at the local indie print shop where she manages the social media accounts, including one disgruntled customer whose order was wrong. I really like the writing style in this one – it was like a story told you you personally, almost diary-like. But I felt like it took a little too long to establish both parties of the meet cute.
---
Hourglass by Ibi Zoboi | ★★★☆☆
I actually liked this story mostly overally. We follow Cherish, a plus-sized MC as she and her best friend Stacey are making the most of the end of their senior year – waiting to hear back from colleges, prom shopping. I thought Cherish had a good meet cute with Mamadau and I liked the promise of more, but woww did Stacey bring this story down. I thought she was a bad friend and the story could only have benefited with her exclusion.
---
Click by Katharine McGee | ★★★★☆ (4.5 Stars)
This was the first story that had that quintessential cutesy-cheeseness that is essential to a good meet cute. Straight-laced and logical Alexa decides to use the Click App to go on a blind date. Which turns disastrous when she meets Raden, and realises she left her phone in her cab, the two go chasing across the city together. This story was really nothing I haven't seen before, but it was just the perfect case of opposites attract.
---
The Intern by Sara Shepard | ★★☆☆☆
I can best summarise this story as blah. I just didn't care about it and I felt nothing. I honestly can't even tell you the MC's name. Whoever she is, she's interning at her dad's record company, where she spends the day with an up-and-coming musician. It just felt so one-dimensional and I didn't care.
---
Somewhere That's Green by Meredith Russo | ★★★☆☆
I'm so torn on this one. One one hand I LOVE Nia, she might be my favorite protagonist in the anthology (definitely top 3), but I didn't like the Lucien, the best friend, or Lexie, the love interest. The story follows Nia, a trans character who's fighting the school to be able to use the right bathroom. I love that Nia's dad is so supportive of her and that there was some much needed representation in the story, but again, some of the characters brought it down for me.
---
The Way We Love Here by Dhonielle Clayton | ★★★★★
There's always one of two stories in an anthology that you NEED to be expanded into full novels ASAP. This is one of those stories for me. It was so ethereal and magical and wondrous, I also liked getting to see a fantasy story represented! Viola lives on an island were soulmates are fated and love is a destiny. But Viola's a bit of a skeptic. She finds Sebastian washed up on shore and together they see their possible futures – filled with love, friendship, happiness, loss, sadness, and everything in between. It was just so good!
---
Oomph by Emery Lord | ★★★★★
This story might be one of the cutest things I have ever seen. Cassidy is visiting colleges alone, but she's stuck in the airport after her flight is delayed. She meets a girl and they have some of the best and most flirty banter that makes you squee with happiness. If you need a feel-good story, look no further.
---
The Dictionary of Me and You by Jennifer L. Armentrout | ★★★☆☆
This was another one that wasn't bad, but wasn't a standout. Main character Moss works at a library and has developed an unlikely relationship with H. Smith, a patronage who's library book is seriously overdue. There's some good banter, as you would expect from Jennifer L. Armentrout, and while the story is a bit on the cliche side, it was harmless fluff.
---
The Unlikely Likelihood of Falling in Love by Jocelyn Davies | ★★★★☆ (4.5 Stars)
Sam is a fan of statistics. She likes analyzing and order, so for her stats project she wants to see the probability of seeing the same guy on the opposite train – who she felt a connection with. So cute, so adorable, I was so invested. I loved the serendipitous nature of the story.
---
259 Million Miles by Kass Morgan | ★★☆☆☆
Philip wants to be chose as a team member on the trip to Mars, and while trying out he meets another potential crew member, Blythe. I felt absolutely nothing in this story. And Blythe was a total MPDG, which was annoying.
---
Something Real by Julie Murphy | ★★★☆☆
I thought the reality competition was a fun setting, and obviously created the perfect environment for a meet cute. June and Martha were nice, but nothing standout for me.
---
Say Everything by Huntley Fitzpatrick | ★☆☆☆☆ (1.5 Stars)
I just didn't like this one. I didn't like that the guy (I don't remember their names, sorry) asks the MC out when she's at work, I didn't like the poor backstory for either character, I didn't like the romance. I just didn't like it.
---
The Department of Dead Love by Nicola Yoon | ★★★★★
This is another one where I would gladly take a full novel ASAP. I don't know what it was, but the two genre stories were really a standout. This futuristic scif story follows a recent breakup victim as he tries to have him memories reset so he can move on. I loved the different departments and just this world. Nicola Yoon is truly an incredible talent.
---
I really happy with this anthology and I also liked how the stories were structured, so there was plenty of good mixed in with the not. Meet Cute showcases the beginnings of many couples in all their awkward, hilarious, and feel-good moments, and reminds us all that true love's got to start somewhere.