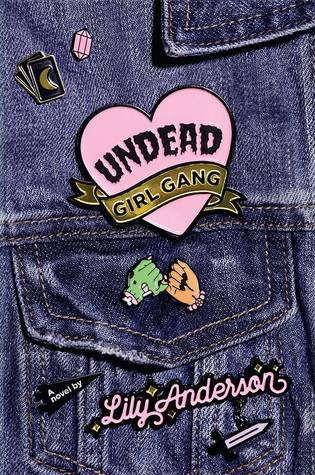 Title: Undead Girl Gang
Author: Lily Anderson
Rating: ★★★☆☆ (3.5 Stars)
Publisher: Penguin Teen
Release Date: May 8, 2018
"Most magic is just telling the universe you're thankful to be here."
---
I think it's impossible to not enjoy Lily Anderson's books. She just creates these fantastically fun and original characters who are vibrant, lively, and easy to connect with. Undead Girl Gang is no different as we're introduced to Mila Flores who is dealing with a lot after the supposed suicide of her best friend and two of her classmates. Mila is convinced that there was foul play, and uses a spell to bring them back to life and uncover the truths of their deaths.
---
Things I Liked 
Mila's inner monologue and narration voice is so strong, clear, and hilarious. It's snarky and biting without ever being vicious. And while she is a fierce and strong personality, she is allowed to grieve and mourn her friend's passing.
Friendship stories are my favorite thing in the world, so seeing Mila do everything she can to find justice for Riley was great. I also loved the unexpected friendship that develops with June and Dayton.
---
Things I Didn't Like 
I thought the chapters felt a little long in the beginning and my focus wasn't 100% because of it. It was really only the first 60 pages or so, but it did take longer for me to get into the story.
I didn't love the ending as much as I wanted too. I felt like it was a little rushed and unsatisfying overall.
---
Undead Girl Gang is a truly unique and hilariously entertaining story about healing and the power of friendship. You don't want to miss it.
I received a copy of the book from Penguin First to Read Program in exchange for an honest review.