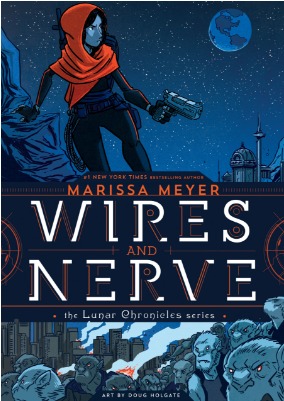 Title: Wires and Nerve, Vol 1 (Wires and Nerve #1)
Author: Marissa Meyer
Rating: ★★☆☆☆
Publisher: Feiwel & Friends
Release Date: January 31, 2017
"That's not necessary. I'm doing what any good friend would do, out of loyalty and Lunar patriotism and–"
"I'll buy you a new pair of shoes."
"Sold."
---

I don't really remember why I thought this would be a good place to start reading graphic novels. Yes, I thought the familiar world and writing would ease me into this new style, but I guess I forgot that I liked each book in the Lunar Chronicles less and found a lot of the characters to be annoying. So I guess my bad? Wires and Nerve, Vol. 1 follows the ragtag crew from the Lunar Chronicles and now IKO is leading the charge to round up the remaining hybrid wolf-soldiers on Earth.
---
Things I Liked 
This was so easy to read. Seriously, this was one of the quickest books I've read in a while. And it was one that I didn't have to focus on a lot, it's not a book that requires much thought. Which is I guess a good or bad thing depending on what you're looking for, but as someone who just wanted entertainment from this particular book it was sufficient.
---
Things I Didn't Like 
Personal problem I discovered while reading this – I didn't like the action scenes AT ALL. And it honestly might just be this story and my lack of investment and not the format, but I need more than "pow", "wham", or "thunk" to make an action scene.
I just didn't connect with the characters. I feel like there was just something different about them, and many of them continued to annoy me – specifically Iko who is the MC. We just don't click.
---
Wires and Nerve, Vol. 1 is a fun extension of the Lunar Chronicles world and I'm sure many fans will love it, unfortunately I'm not one of them. I'm not going to write-off graphic novels forever because of this bad experience, but I don't think I'll be continuing with this series either.
---
What's your favorite book in the Lunar Chronicles world? What's a good place to start graphic novels? Share below!