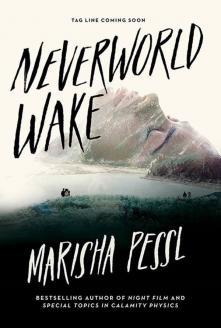 Title: Neverworld Wake
Author: Marisha Pessl
Rating: ★★★★☆
Publisher: Delacorte Press
Release Date: June 5, 2018
"Our friendship was born there…. You could feel life burning us, our scars as real as the wind whipping our faces. We knew that nothing would ever be the same, that youth was here and nearly gone already, that love was gradile and death was real."
Synopsis
Once upon a time, back at Darrow-Harker School, Beatrice Hartley and her six best friends were the cool kids, the beautiful ones. Then the shocking death of Jim—their creative genius and Beatrice's boyfriend—changed everything.

One year after graduation, Beatrice is returning to Wincroft—the seaside estate where they spent so many nights sharing secrets, crushes, plans to change the world—hoping she'll get to the bottom of the dark questions gnawing at her about Jim's death. But as the night plays out in a haze of stilted jokes and unfathomable silence, Beatrice senses she's never going to know what really happened.

Then a mysterious man knocks on the door. Blithely, he announces the impossible: time for them has become stuck, snagged on a splinter that can only be removed if the former friends make the harshest of decisions. Now Beatrice has one last shot at answers–and at life.
---
---
My Review
So I guess I read mysteries now? Mysteries, as a genre, aren't something I normally reach for. Though I do love the inclusion of mysteries in other genres. So I guess it's no surprise I loved this mystery story with a science fiction fusion. Neverworld Wake explores the struggles of friendships, life, and the ever looming "what if".
Things I Liked 
This is obviously a mystery story, but it's heart is about friendship which I LOVED. I'm always here for friendship stories and Neverworld Wake weaves a delicate and realistic story about friendships, secrets, and personal connection. I also really loved seeing how the friendship had changed after the tragic loss of Jim the year before and there's these new dynamics and a bit of uncertainty.
I loved the setting of the Neverworld and experiencing the wakes with the different outcomes. It hooked me immediately and never felt repetitive, despite reliving the same day countless times. I liked seeing what each person brought to the Neverworld and how they shaped their new reality. And I thought the time travel theory, adapted from Martha's favorite book, The Bend, was unique and fascinating.
There was a recklessness and abandonment to the story that was perfect. I think the time repetition really allowed the characters to explore themselves in every possible way and try to rectify who they are and what they've done. It was both freeing and maddening.
The writing was stunning and there were so many incredible quotes
"Friendship, when it runs deep, blinds you to the outside world."

"This phenomenon is not specific to you. There are such moments occurring simultaneously in the past, present, and future all around the world across the universe, known and unknown, crumpled and unfolded. Time does not travel in a straight line. It bends and barrels across tunnels and bridges. It speeds up. Slows down. It even derails."

"…I saw very little as it truly was… We swear we see each other, but all we are ever able to make out is the tiny porthole view of an ocean. We think we remember the past as it was, but our memories are as fantastic and flimsy as dreams. It's so easy to hate the pretty one, worship the genius, love the rock star, trust the good girl. That's never their only story. 
We are all anthologies. We are each thousands of pages long, filled with fairy tales and poetry, mysteries and tragedy, forgotten stories in the back no one will even read."
Things I Didn't Like 
There's honestly not much, but I did think the ending was a little lackluster. I really liked the revel surrounding Jim's death, but the conclusion of the Neverworld was exactly what I expected, which isn't ideal in a mystery.
Despite some tiny squabbles with the ending, I still loved this story – complex characters, dimensional relationships, unanswered questions – And I will definitely be reading more from Marisha Pessl in the future. Neverworld Wake is a YA debut that is defnitely worth the read.
I received a copy of the book from Delacorte Press in exchange for an honest review.
---
---
About the Author
Marisha Pessl grew up in Asheville, North Carolina, and now lives in New York City. Special Topics in Calamity Physics, her debut novel, was a bestseller in both hardcover and paperback. It won the 2006 John Sargent Sr. First Novel Prize (now the Center for Fiction's Flaherty-Dunnan First Novel Prize), and was selected as one of the 10 Best Books of the Year by The New York Times Book Review. Her new novel, Night Film, comes out August 20, 2013.

Website | Twitter | Instagram | Facebook | Tumblr | Goodreads

---
Follow the Tour
So many thank yous to Rockstar Book Tours and Delacorte Press for the opportunity to read this incredible book! Make sure you follow along with the tour to see what these other bloggers have to say about this unique and mysterious read!
Week One:
6/1/2018- YA Books Central– Excerpt
Week Two:
6/4/2018- Two Chicks on Books– Excerpt
6/5/2018- Bookish Lifestyle– Review
6/6/2018- Tea With Mermaids– Review
6/7/2018- Trendy Simple Life– Review
6/8/2018- A Dream Within A Dream– Review
Week Three:
6/11/2018- Books Coffee and Repeat– Review
6/12/2018- Nerdophiles– Review
6/13/2018- Life of a Literary Nerd– Review
6/14/2018- Jena Brown Writes– Review
6/15/2018- Once Upon a Twilight– Review
Week Four:
6/18/2018- Here's to Happy Endings– Review
6/19/2018- Book-Keeping– Review
6/20/2018- A Gingerly Review– Review
6/21/2018- Cindy's Love of Books– Review
6/22/2018- RhythmicBooktrovert– Review
 Week Five:
6/25/2018- BookHounds YA– Review
6/26/2018- Under the Book Cover– Review
6/27/2018- Smada's Book Smack– Review
6/28/2018- Hauntedbybooks– Review
6/29/2018- The Cover Contessa– Excerpt

---
Giveaway
3 winners will receive a finished copy of NEVERWORLD WAKE

US Only.
---
Neverworld Wake is such a unique and captivating read! Make sure you grab your copy today.
Purchase Links
Amazon, Audible, B&N, iBooks, TBD