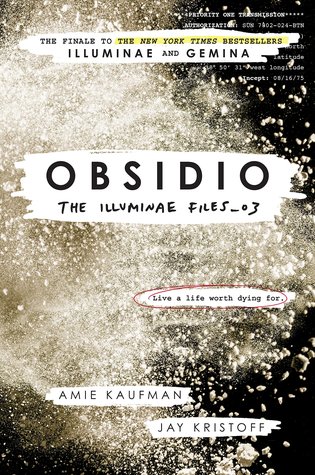 Title: Obsido (The Illuminae Fies #3)
Authors: Amie Kaufman & Jay Kristoff
Rating: ★★★★☆
Publsiher: Knopf BFYR
Release Date: March 13, 2018
I have heard it said
That evil is simply a point of view.
The villain is always the hero in his own story.
And the definitions of "wrong" and "right"
Ever shift on the inconstant tides
Of human morality.
---
I honestly didn't really know what to expect from this last instalment of the Illuminae Files. And I don't really know if all my expectations were met, but I have to say it was a fun ride. Obsidio brings together the resilient ragtag group from Illuminae and Gemina, plus some newbies on Kerenza IV, as they try to expose BioTech's misdeeds once and for all.
---
Things I Liked 
If you would have told me when I was reading Illuminae that A.I.D.A.N. would become my favorite, I'd have called BS. But I love that A.I. like no other. I honestly never expect for it to become my favorite character in the series, but there's such depth and intelligence there that I'm completely drawn in.
I really liked getting to see the different dynamics and team-ups that happened as a result of so many different ships coming together. I liked exploring the politics and power struggles, but I also enjoyed seeing our main characters interact in new ways. Nik and Ezra was a particular favorite pairing of mine.
This quote
"This die is cast. But today we will shake the table upon which it lands."
---
Things I Didn't Like 
The story got a bit formulaic, with the introduction of Asha and Rhys. So I was less interested in what was happening on Kerenza IV. It was a more unbalanced story for me than the previous ones – I cared less about what was happening on Kerenza than I did about the Mao. The "shocking" moments didn't really feel impactful because I felt like I knew what would happen.
---
Overall I really love this series and it's just a fun experience. I think Obsidio was a good conclusion to the story and felt mostly satisfying. I really liked most of the characters and they definitely drove the story for me. And high stakes and thrilling missions don't hurt either. I could read space stories everyday, so this series is obviously a win from me.
---
What did you think of OBSIDIO? What's your favorite space story? Share below!