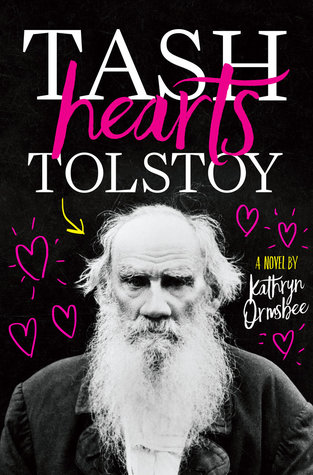 Title: Tash Hearts Tolstoy
Author: Kathryn Ormsbee
Rating:  ★★★☆☆
Publisher: Simon & Schuster
Release Date: June 6, 2017
"If you want a chance at being happy, exist. Because yes, life can suck, but as long as you're alive, there's a chance you can be happy."
---
Tash Hearts Tolstoy was above all a fun book. It was so easy to read I devoured it in one day. We follow the Tash Zelenka, co-creator of a modernized Anna Karenina webseries, as her webseries reaches new heights and propels her toward virtual acclaim and her crush on fellow vlogger Thom Causer.
---
Things I Liked 
I LOVED the fact that we get explicit asexual representationin the story! I loved seeing Tash discover what she identified as. I love that we see her research and process and come to understand herself more. It was great.
Tash and Jack's friendship was so realistic and I really liked it a lot. They were best friends who were unflinchingly honest with each other, but never intentionally cruel or hurtful. They respected each other so much and you could clearly see the care and support there. I loved that the created this webseries together and were pursuing their passions. Even though their personalities were very different, they complimented each other.
Tash and Paul was the other leg of the best friend triangle and I loved them so much too! They didn't have as different personalities as Tash and Jack, so they melded easier. They have great chemistry and their relationship felt earnest.
---
Things I Didn't Like 
I didn't like any other character dynamic in the story and that made me sad. I thought the family dynamics were weak, in Tash's family and in Jack and Pauls, I actively disliked Tash's dynamic with her sister, I was a bit disappointed by the cast/crew friendship. I was expecting more there, but I just didn't really feel anything.
There was a lot of selfishness that was off-putting and made me like the characters less. Several character were selfish and I just couldn't connect with them, as a character driven reader this limited my personal enjoyment of the story.
---
A good, but not a great read. I wish I liked more of the characters and relationships in the story, because I definitely would have enjoyed the book more, but it was a fun time and I LOVED the representation. Tash Hearts Tolstoy is a fun look at fandom and self discovery.
---
What did you think of TASH HEARTS TOLSTOY? Share below!