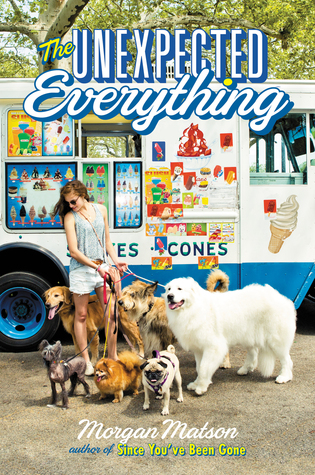 Title: The Unexpected Everything
Author: Morgan Matson
Rating: ★★★★☆
Publisher: Simon & Schuster BFYR
Release Date: May 3, 2016
"You have to try. You have to take your chances. Go and attempt and see what happens. And even if you fail – especially if you fail – come back with your experience and your hard-won knowledge and a story you can tell. And then later you can say, without regret or hesitation… 'Once, I dared to dare greatly" 
---
This was a great contemporary read. It would be perfect for the summer. It reads really quickly, it has best friends, scavenger hunts, and dogs. I mean, who doesn't love dogs. We follow Andie through her unexpected summer home after her dad's political scandal affects her summer pre-med program. We see her really grow into her own and learn more about herself along the way.
---
Things I Liked
I loved all of the different relationships in the story. I liked Andie & Topher, they had a weird understanding of each other that led to an unlikely sort of dynamic. I though Palmer & Tom were adorable – completely enamored and supportive of each other. I loved the friendship that developed between Clark & Tom (#Tark). It was great to see such enthusiasm in a male friendship. I liked the dynamic between Andie, Palmer, Bri, & Toby – with all the highs and lows it felt really genuine. And Andie's relationship with her dad grew and became something important for the both of them. They became a priority in each other's lives and that was great to see such a loving and caring relationship develop. Clark & Andie were completely adorable! They developed really organically through the story and earned our love. All the relationships felt genuine and realistic.
Friendship shaking fights, boy anxiety, parent drama, and worrying about the future all helped to ground this light read and give it more depth. There really isn't much of a plot – it's more a journey for the characters and we see them put into situations that everyone can relate. It makes it easy to connect and empathise with them.
I like how writing was featured in the book. I loved seeing Andie and Clark work through his writer's block by creating stories with each other as they went on walks. Clark overcoming his block by sharing their story – of their summer adventures – was great. I wanted to read it like all of his fans.
I loved the shoutouts/cameos to Frank and Emily and seeing the Orchard again. It helped the world feel more real, because I've already read (and loved) Since You've Been Gone.
---
Things I Didn't Like
While the setting and situations helped the characters feel relatable, I didn't find them to be particularly well developed. I thought Bri and Toby were not defined well enough. I know it was a running joke in the story that they were confused for each other because they were so similar, despite not looking alike, but it was a little too much. For almost the entire book I would have to re-read passages, or go back and check which character we were dealing with because Bri and Toby felt pretty interchangeable. I also thought Topher was pretty underdeveloped. I know he was a minor character, but it felt like her only entered the story to prop Andie up, and otherwise had no other role. Speaking of Andie, I didn't find her that likeable. She was emotionally withdrawn, especially in the beginning of the story, and that made it hard for me to connect with her. She also felt a little entitled, so that didn't win any points from me either.
---
Overall, I thought this was a solid contemporary and a perfect book for summer. The chapters are a little on the long side, but it reads very quickly. The characters are relatable, the situations are realistic, and the relationships are all earned. This is such a feel-good book, guaranteed to made a good day even better.
---
Have you read THE UNEXPECTED EVERYTHING? What's your favorite Morgan Matson book? Share below!