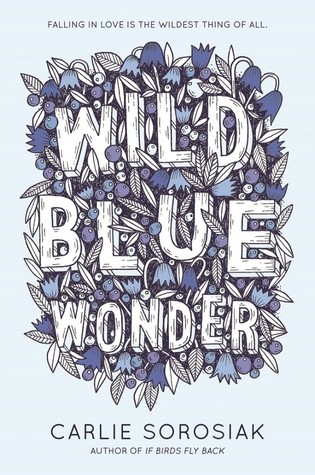 Title: Wild Blue Wonder
Author: Carlie Sorosiak
Rating:  ★★★★☆ (4.5 Stars)
Publisher: Harper Teen
Release Date: June 26, 2018
"Scary things and amazing things coexist. The world is full of wildness and wonder. And a lot of it is good."
---
Wild Blue Wonder is a captivating story about family, forgiveness, and the pain of grief. Quinn is learning to live after the tragic loss of her best friend Dylan the summer before. Quinn blames herself for Dylan's death and she's begun to drift from her siblings, who are feeling the loss in their own way. But Quinn is determined to fix something and starts repairing the boat that was the site of the accident that caused so much pain. As Quinn begins to heal, she meets Alexander and starts to face the moster she thinks she's become.
---
Things I Liked 
I absolutely loved the "then" chapters, written as letters to Dylan about their last summer together. It felt so personal and made it so easy to connect with Quinn and see her mindset. It also made it impossible to not fall in love with Dylan too.
I felt like there was such a great progression to the story. Not only with Quinn and Alexander's friendship turned possibly more, but with Quinn, Reed and Fern's healing after the tragic loss of someone they all loved deeply.
---
Things I Didn't Like 
I feel like the story could have had more whimsy and magic. The Hundred is this magical place where animals flee to during a storm and blueberries bloom in the winter, but I feel like we barely scratched the surface of the magic and it was mostly just hints here and there.
---
Wild Blue Wonder was such a magical story about family and healing. I loved it just as much as her debut, If Birds Fly Back, and highly recommend both for fans or deeply emotional contemporary stories that will pack a punch and tug at your heartstrings.
Have you read WILD BLUE WONDER yet? Have you read IF BIRDS FLY BACK? Share below!

I received a copy of the book from Harper Teen via Edelweiss in exchange for an honest review.