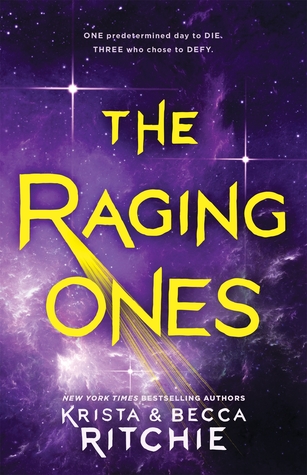 Title: The Raging Ones (The Raging Ones #1)
Author: Krista & Becca Ritchie
Rating:  ★★★☆☆
Publisher: Wednesday Books
Release Date: August 14, 2018
"We're together rings through us. but wee look out at what we face. With the universe out our window and the unknown roping us in – we become one maddened pulse, Raging, Raging.
Raging."
---
This was a really uneven reading experience for me. I loved the prologue and I was immediately hooked, but then for most of the rest of the book I was just bored and uninterested, with only small moments holding me interest and keeping me going. Then, I was soo into the end of the story and I can't wait to know what happens next. The Raging Ones is truly a ride, with unexpected twists, great character relationships, and a world like you've never seen.
Things I Liked 
I think my favorite thing about this story was the dynamic between Franny, Court, and Mykal. I loved the deep care and connection they have. It's so pure, open, and honest and I was so here for it.
The prologue from Court's POV immediately hooked me and I was so excited for his characters because he sounded like a morally grey and unreliable narrator.
I thought that the book's ending and cliffhanger were both so strong and pulled me right back in after my interest was going up and down through the story.
Things I Didn't Like 
I wasn't the biggest fan of the writing in the story. It was very repetitive and had a lot of telling not showing and the whole made up language thing was a bit distracting at times.
I thought the worldbuilding was lacking. There wasn't much to it besides everything being covered in ice. The different regions weren't clear and I still don't understand the last names situation.
I felt like the story was unbalanced during parts. Like in the training, and just in general, I feel like we really didn't get to see as much of Mykal as the other two.
Even though I didn't love The Raging Ones story, it still kept me reading. Some stories that don't interest you leave you doing everything you can to not pick it up, but I still wanted to know what was happening with these characters so I commend the book for that. I really loved the dynamic between the trio and the adorable romance between Court and Mykal. I'm genuinely excited to see where the story is headed and what's going to happen next.
I received a copy of the book from Wednesday Books via Netgalley in exchange for an honest review.