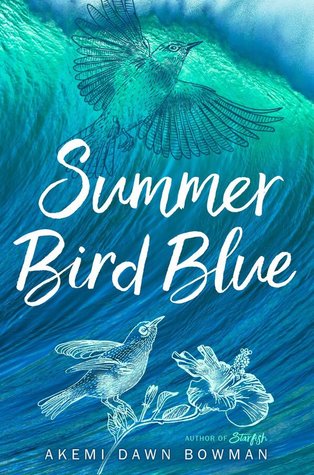 Title: Summer Bird Blue
Author: Akemi Dawn Bowman
Rating: ★★★★★
Publisher: Simon Pulse
Release Date: September 11, 2018
"A wish is a wish after all."
---
Summer Bird Blue is an emotional journey of anger, grief, loss and healing. After unexpectedly losing her sister and best friend Lea, Rumi Seto is angry at the world and doesn't know how to move on. Moving to Hawaii for the summer wasn't part of the plan, but she's determined to find a way to honor Lea's memory and move on at the same time, so Rumi turns to their shared love of music and discovers a power she didn't know existed.
Things I Liked 
I loved Rumi. I loved her anger, I loved her emotions, I loved her fight. She is a force and I respect her and feel for her and I want to shower her with all the support in the world. Rumi's grief was so physical, I could feel it. It made it so easy to invest and connect with her and everything she was going through. She had quite the journey and emotional arc and I was happy to be along for the ride.
I really loved seeing "The Memory" flashbacks of Rumi and Lea's tumultuous history. It built their sisterly relationship in such an honest and realistic way. It showed their fights, resentments, and devotion. It really built their relationship so Lea was a meaningful presence in the book, even though she dies at the beginning of the story.
I don't know what it is with Akemi Dawn Bowman's stories, but she writes some of the most unexpected friendships between her protagonists and these grumpy old men/mentor figures that I fall in love with. Rumi and Mr. Watanabe's friendship brought such joy to me that I could never have enough of them listening to music or gardening.
In the midst of Rumi's huge world shift, she's also questioning her sexuality through much of the story. She's conflicted about labels and needing to know what she wants right now and is deeply afraid of change. Through the story, Rumi comes to see that she'd probably identify as asexualand somewhere on the aromantic spectrum. It's always amazing to see aro/ace characters in YA because they are severely underrepresented.
Things I Didn't Like 
I would have loved to see Rumi and Kai, Hannah, Gareth, and the whole crew to see more of each of other and really develop their friend group. Obviously Kai was the most developed, but I still would have liked more from him. I feel like all I know about him is that his dad's an asshole.
I felt like there was parts of the last quarter of the book that felt a little rushed. It was like everything was happening at one time, one top of each other, and no real time for the characters to react.
Akemi Dawn Bowman is quickly becoming a go-to-author for me when I want a YA contemporary story that has a big emotional impact. I loved that Rumi was allowed to be angry and grief isn't always expressed as sadness. I loved seeing that Rumi isn't a perfect person, and sometimes she's downright unlikeable, but she's so real. Summer Bird Blue was a truly captivating story about healing that will play your heartstrings and pull you in.
I received a copy of the book from Simon Pulse via Edelweiss in exchange for an honest review