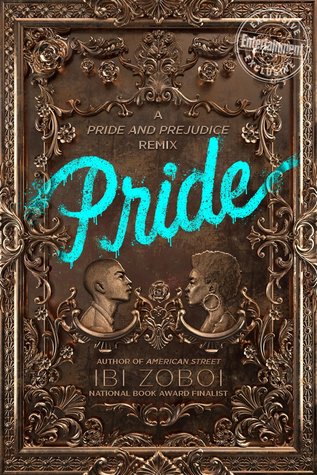 Title: Pride
Author: Ibi Zoboi
Rating: ★★★★☆
Publisher: Balzer + Bray
Relase Date: September 18, 2018
"It's a truth universally acknowledged that when rich people move into the hood, where it's a little bit broken and a little bit forgotten, the first thing they want to do is clean it up."
---
Pride is one of those books that I've hyped myself up for and was a nervous wreck before reading because I so desperately wanted to love it. I can happily say that I was hooked from the first sentence and I did not want to put this book down. We follow Zuri Benitez as she tries to hold onto the familiarity of her quickly changing neighborhood. When the wealthy Darcy family moves in across the street, and her older sister Janae starts to fall for Ainsley, Zuri fights to hold onto herself and her home as everything is rapidly moving forward.
---
Things I liked 
My absolute favorite thing about this story, and what drew me to it initially, was the commentary on gentrification and class that was expertly woven with a classical story. I feel like it modernized the story in such an authentic and relevant way that I was floored and would recommend Pride on that criteria alone. I loved seeing Zuri's perspective on her changing neighborhood and the pride and identity she found because of where she was from, how that shaped her, and the challenges of leaving that safe space for the first time. It was just so good.
Zuri and Darius are a dynamic cuo who completely captured my heart. I loved their banter and bickering. We get to spend a lot of time with them and really see their relationship progress and I was all kinds of here for it.
---
Things I Didn't Like 
I would have loved to see more sisterly relationship stuff from the Benitez family, because sibling relationships is always a favorite focus of mine in books, but I understand that wasn't the focus of this story. There are some really great moments, particularly with Janae, but I always want more.
---
I'm always drawn to modernized retellings, probably because it's a way to read classics (that I tend to avoid) in a fresh and unique way. Pride is an excellent example of a retelling that really brings new life into a well-known story. The discussion of Pride – in your name, your home, your town, were all so personal and touching, while showcasing universal feelings of unease and doubt when confronting change. Pride was just a jy to read and I loved it more as the story continued.
I received a copy of the book from Blazer + Bray via Edelweiss in exchange for an honest review.
Are you excited for PRIDE? Waht's your favorite Pride and Prejudice adaption? Share below!