I don't know if it's a birthday gift to me, but October always has the best book releases! October releases are always some of my most anticipated for the year, and at least one ends up being on my end of the year favorites list. With so many good books coming out and  the weather finally starting to cool down, October feels like it was made for reading. Here are all of my most anticipated books coming out this month!
---
The Lady's Guide to Petticoats and Piracy by Mackenzi Lee | Felicity Montague is through with pretending she prefers society parties to books about bone setting—or that she's not smarter than most people she knows, or that she cares about anything more than her dream of becoming a doctor.
A year after an accidentally whirlwind tour of Europe, which she spent evading highwaymen and pirates with her brother Monty, Felicity has returned to England with two goals in mind—avoid the marriage proposal of Callum Doyle, a lovestruck suitor from Edinburgh; and enroll in medical school. However, her intellect and passion will never be enough in the eyes of the administrators, who see men as the sole guardians of science.
But then a small window of hope opens. Doctor Alexander Platt, an eccentric physician that Felicity idolizes, is looking for research assistants, and Felicity is sure that someone as forward thinking as her hero would be willing to take her on. However, Platt is in Germany, preparing to wed Felicity's estranged childhood friend Johanna. Not only is Felicity reluctant to opening old wounds, she also has no money to make the trip.
Luckily, a mysterious young woman is willing to pay Felicity's way, so long as she's allowed to travel with Felicity disguised as her maid. In spite of her suspicions, Felicity agrees, but once the girl's true motives are revealed, Felicity becomes part of a perilous quest that will lead her from the German countryside to the promenades of Zurich to secrets lurking beneath the Atlantic.  Release Date: October 2nd
---
Broken Things by Lauren Oliver | It's been five years since Summer Marks was brutally murdered in the woods. 
Everyone thinks Mia and Brynn killed their best friend. That driven by their obsession with a novel called The Way into Lovelorn the three girls had imagined themselves into the magical world where their fantasies became twisted, even deadly.
The only thing is: they didn't do it. 
On the anniversary of Summer's death, a seemingly insignificant discovery resurrects the mystery and pulls Mia and Brynn back together once again. But as the lines begin to blur between past and present and fiction and reality, the girls must confront what really happened in the woods all those years ago—no matter how monstrous. Release Date: October 2nd
---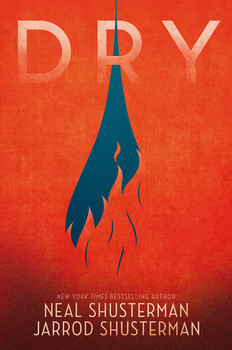 Dry by Neal Shusterman & Jarrod Shusterman | The drought—or the Tap-Out, as everyone calls it—has been going on for a while now. Everyone's lives have become an endless list of don'ts: don't water the lawn, don't fill up your pool, don't take long showers.
Until the taps run dry.
Suddenly, Alyssa's quiet suburban street spirals into a warzone of desperation; neighbours and families turned against each other on the hunt for water. And when her parents don't return and her life—and the life of her brother—is threatened, Alyssa has to make impossible choices if she's going to survive. Release Date: October 2nd
---
Muse of Nightmares by Laini Taylor | In the wake of tragedy, neither Lazlo nor Sarai are who they were before. One a god, the other a ghost, they struggle to grasp the new boundaries of their selves as dark-minded Minya holds them hostage, intent on vengeance against Weep.
Lazlo faces an unthinkable choice—save the woman he loves, or everyone else?—while Sarai feels more helpless than ever. But is she? Sometimes, only the direst need can teach us our own depths, and Sarai, the muse of nightmares, has not yet discovered what she's capable of.
As humans and godspawn reel in the aftermath of the citadel's near fall, a new foe shatters their fragile hopes, and the mysteries of the Mesarthim are resurrected: Where did the gods come from, and why? What was done with thousands of children born in the citadel nursery? And most important of all, as forgotten doors are opened and new worlds revealed: Must heroes always slay monsters, or is it possible to save them instead? Release Date: October 2nd
---
Sawkill Girls by Claire Legrand | Beware of the woods and the dark, dank deep.
He'll follow you home, and he won't let you sleep.
Who are the Sawkill Girls?
Marion: the new girl. Awkward and plain, steady and dependable. Weighed down by tragedy and hungry for love she's sure she'll never find.
Zoey: the pariah. Luckless and lonely, hurting but hiding it. Aching with grief and dreaming of vanished girls. Maybe she's broken—or maybe everyone else is.
Val: the queen bee. Gorgeous and privileged, ruthless and regal. Words like silk and eyes like knives, a heart made of secrets and a mouth full of lies.
Their stories come together on the island of Sawkill Rock, where gleaming horses graze in rolling pastures and cold waves crash against black cliffs. Where kids whisper the legend of an insidious monster at parties and around campfires.
Where girls have been disappearing for decades, stolen away by a ravenous evil no one has dared to fight… until now. Release Date: October 2nd
---
The Seven Torments of Amy and Craig by Don Zolidid | Janesville, Wisconsin (cold in the sense that there is no God)
1994
The worst thing that's ever happened to Craig is also the best: Amy. Amy and Craig never should've gotten together. Craig is an awkward, Dungeons & Dragons-playing geek, and Amy is the beautiful, fiercely intelligent student-body president of their high school.
Yet somehow they did. Until Amy dumped him. Then got back together with him. Then dumped him again. Then got back together with him again. Over and over and over.
Unfolding during their senior year, Amy and Craig's exhilarating, tumultuous relationship is a kaleidoscope of joy, pain, and laughter as an uncertain future-and adult responsibility-loom on the horizon.
Craig fights for his dream of escaping Janesville and finding his place at a quirky college, while Amy's quest to uncover her true self sometimes involves being Craig's girlfriend?and sometimes doesn't.
Seven heartbreaks. Seven joys.Told nonsequentially, acclaimed playwright Don Zolidis's debut novel is a brutally funny, bittersweet taste of the utterly unique and utterly universal experience of first love. Release Date: October 2nd
---
(Don't) Call Me Crazy edited by Kelly Jensen | Who's Crazy?
What does it mean to be crazy? Is using the word crazy offensive? What happens when such a label gets attached to your everyday experiences?
In order to understand mental health, we need to talk openly about it. Because there's no single definition of crazy, there's no single experience that embodies it, and the word itself means different things—wild? extreme? disturbed? passionate?—to different people.
(Don't) Call Me Crazy is a conversation starter and guide to better understanding how our mental health affects us every day. Thirty-three writers, athletes, and artists offer essays, lists, comics, and illustrations that explore their personal experiences with mental illness, how we do and do not talk about mental health, help for better understanding how every person's brain is wired differently, and what, exactly, might make someone crazy.
If you've ever struggled with your mental health, or know someone who has, come on in, turn the pages, and let's get talking. Release Date: October 2nd
---
The Geography of Lost Things by Jessica Brody | After Ali's father passes away, he leaves his one and only prized possession—a 1968 Firebird convertible—to his daughter. But Ali doesn't plan on keeping it. Not when it reminds her too much of all her father's unfulfilled promises. So when she finds a buyer three hundred miles up the Pacific coast willing to pay enough money for the car to save her childhood home, Ali can't wait to get going. Except Ali has no idea how to drive a stick shift. But guess who does?
Ali's ex-boyfriend, Nico. And Nico has other plans.
He persuades Ali that instead of selling the car, they should "trade up" the items they collect on their trip to eventually reach the monetary amount Ali needs. Agreeing with Nico's crazy plan, Ali sets off on a unique adventure that is unlike anything she ever could have expected.
And it's through Ali's travels, through the strangers she meets and the things that they value—and why they value them—that Ali eventually comes to understand her father and how his life may not have been as easy and carefree as she previously thought. Because just like the seemingly insignificant objects Ali collects, not everything is exactly as it appears.  Release Date: October 2nd
---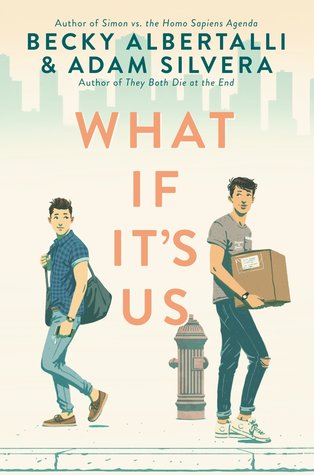 What If It's Us by Becky Albertalli & Adam Silvera | Arthur is only in New York for the summer, but if Broadway has taught him anything, it's that the universe can deliver a showstopping romance when you least expect it.
Ben thinks the universe needs to mind its business. If the universe had his back, he wouldn't be on his way to the post office carrying a box of his ex-boyfriend's things.
But when Arthur and Ben meet-cute at the post office, what exactly does the universe have in store for them?
Maybe nothing. After all, they get separated.
Maybe everything. After all, they get reunited.
But what if they can't quite nail a first date . . . or a second first date . . . or a third?
What if Arthur tries too hard to make it work . . . and Ben doesn't try hard enough?
What if life really isn't like a Broadway play?
But what if it is? Release Date: October 9th
---
Odd One Out by Nic Stone | Courtney "Coop" Cooper
Dumped. Again. And normally I wouldn't mind. But right now, my best friend and source of solace, Jupiter Sanchez, is ignoring me to text some girl.
Rae Evelyn Chin
I assumed "new girl" would be synonymous with "pariah," but Jupiter and Courtney make me feel like I'm right where I belong. I also want to kiss him. And her. Which is . . . perplexing.
Jupiter Charity-Sanchez
The only thing worse than losing the girl you love to a boy is losing her to your boy. That means losing him, too. I have to make a move. . . .
One story.
Three sides.
No easy answers.
Release Date: October 9th
---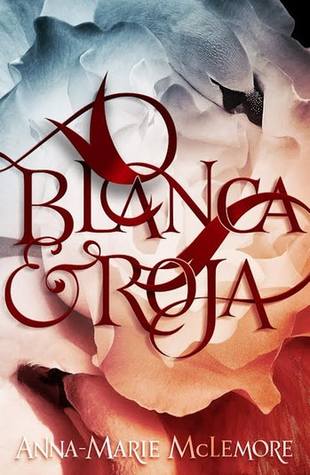 Blanca & Roja by Anna-Marie McLemore | The biggest lie of all is the story you think you already know.
The del Cisne girls have never just been sisters; they're also rivals, Blanca as obedient and graceful as Roja is vicious and manipulative. They know that, because of a generations-old spell, their family is bound to a bevy of swans deep in the woods. They know that, one day, the swans will pull them into a dangerous game that will leave one of them a girl, and trap the other in the body of a swan.
But when two local boys become drawn into the game, the swans' spell intertwines with the strange and unpredictable magic lacing the woods, and all four of their fates depend on facing truths that could either save or destroy them. Blanca & Roja is the captivating story of sisters, friendship, love, hatred, and the price we pay to protect our hearts. release Date: October 9th
---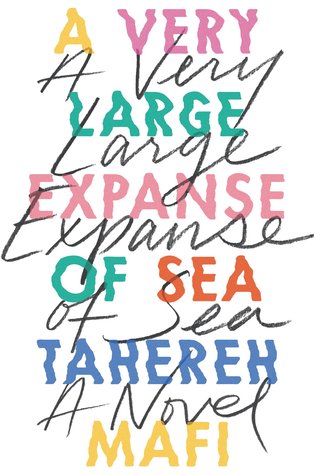 A Very Large Expanse of Sea by Tahereh Mafi | It's 2002, a year after 9/11. It's an extremely turbulent time politically, but especially so for someone like Shirin, a sixteen-year-old Muslim girl who's tired of being stereotyped.
Shirin is never surprised by how horrible people can be. She's tired of the rude stares, the degrading comments—even the physical violence—she endures as a result of her race, her religion, and the hijab she wears every day. So she's built up protective walls and refuses to let anyone close enough to hurt her. Instead, she drowns her frustrations in music and spends her afternoons break-dancing with her brother.
But then she meets Ocean James. He's the first person in forever who really seems to want to get to know Shirin. It terrifies her—they seem to come from two irreconcilable worlds—and Shirin has had her guard up for so long that she's not sure she'll ever be able to let it down.  Release Date: October 16th
---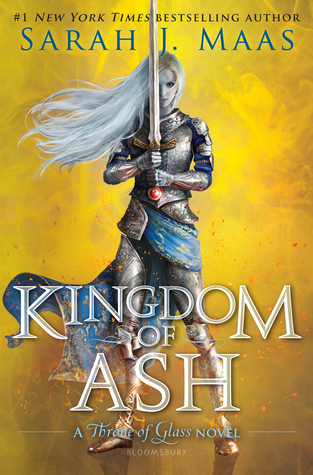 Kingdom of Ash by Sarah J. Maas | Aelin has risked everything to save her people―but at a tremendous cost. Locked within an iron coffin by the Queen of the Fae, Aelin must draw upon her fiery will as she endures months of torture. Aware that yielding to Maeve will doom those she loves keeps her from breaking, though her resolve begins to unravel with each passing day…
With Aelin captured, Aedion and Lysandra remain the last line of defense to protect Terrasen from utter destruction. Yet they soon realize that the many allies they've gathered to battle Erawan's hordes might not be enough to save them. Scattered across the continent and racing against time, Chaol, Manon, and Dorian are forced to forge their own paths to meet their fates. Hanging in the balance is any hope of salvation―and a better world.
And across the sea, his companions unwavering beside him, Rowan hunts to find his captured wife and queen―before she is lost to him forever.
As the threads of fate weave together at last, all must fight, if they are to have a chance at a future. Some bonds will grow even deeper, while others will be severed forever in the explosive final chapter of the Throne of Glass series. Release Date: October 23rd
---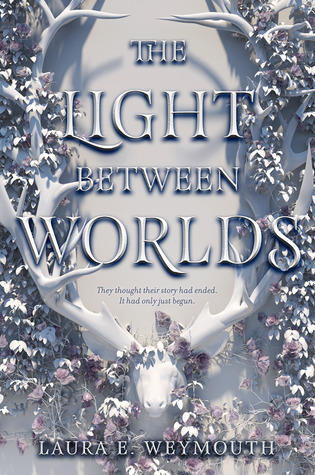 The Light Between Worlds by Laura E. Weymouth | Five years ago, Evelyn and Philippa Hapwell cowered from air strikes in a London bomb shelter. But that night took a turn when the sisters were transported to another realm called the Woodlands. In a forest kingdom populated by creatures out of myth and legend, they found temporary refuge.
When they finally returned to London, nothing had changed at all—nothing, except themselves.
Now, Ev spends her days sneaking into the woods outside her boarding school, wishing for the Woodlands. Overcome with longing, she is desperate to return no matter what it takes.
Philippa, on the other hand, is determined to find a place in this world. She shields herself behind a flawless exterior and countless friends, and moves to America to escape the memory of what was.
But when Evelyn goes missing, Philippa must confront the depth of her sister's despair and the painful truths they've been running from. As the weeks unfold, Philippa wonders if Ev truly did find a way home, or if the weight of their worlds pulled her under. Release Date: October 23rd
---
Imagine Us Happy by Jennifer Yu | Some love stories aren't meant to last. 
Stella lives with depression, and her goals for junior year are pretty much limited to surviving her classes, staying out of her parents' constant fights and staving off unwanted feelings enough to hang out with her friends Lin and Katie.
Until Kevin. A quiet, wry senior who understands Stella and the lows she's going through like no one else. With him, she feels less lonely, listened to—and hopeful for the first time since ever…
But to keep that feeling, Stella lets her grades go and her friendships slide. And soon she sees just how deep Kevin's own scars go. Now little arguments are shattering. Major fights are catastrophic. And trying to hold it all together is exhausting Stella past the breaking point. With her life spinning out of control, she's got to figure out what she truly needs, what's worth saving—and what to let go. Release Date: October 23rd
---
That Night by Amy Giles | The year since a mass shooting shook their Queens neighborhood has played out differently for Jess and Lucas, both of whom were affected by that night in eerily similar and deeply personal ways.
As Jess struggles to take care of her depressed mother, and Lucas takes up boxing under the ever-watchful eye of his overprotective parents, their paths converge. They slowly become friends and then something more, learning to heal and move forward together. But what does it mean to love after an unspeakable tragedy? Release Date: October 23rd
---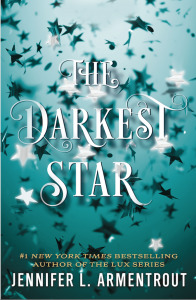 The Darkest Star by Jennifer L. Armentrout | When seventeen-year-old Evie Dasher is caught up in a raid at a notorious club known as one of the few places where humans and the surviving Luxen can mingle freely, she meets Luc, an unnaturally beautiful guy she initially assumes is a Luxen…but he is in fact something much more powerful. Her growing attraction for Luc will lead her deeper and deeper into a world she'd only heard about, a world where everything she thought she knew will be turned on its head… Release Date: October 30th
---
This is Kind of an Epic Love Story by Kheryn Callender | Nathan Bird doesn't believe in happy endings.
Although he's the ultimate film buff and an aspiring screenwriter, Nate's seen the demise of too many relationships to believe that happy endings exist in real life.
Playing it safe to avoid a broken heart has been his MO ever since his father died and left his mom to unravel—but this strategy is not without fault. His best-friend-turned-girlfriend-turned-best-friend-again, Florence, is set on making sure Nate finds someone else. And in a twist that is rom-com-worthy, someone does come along: Oliver James Hernández, his childhood best friend.
After a painful mix-up when they were little, Nate finally has the chance to tell Ollie the truth about his feelings. But can Nate find the courage to pursue his own happily ever after?  Release Date: October 30th
---
Favorite Covers

Most Excited For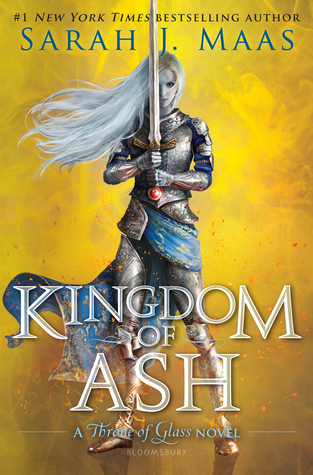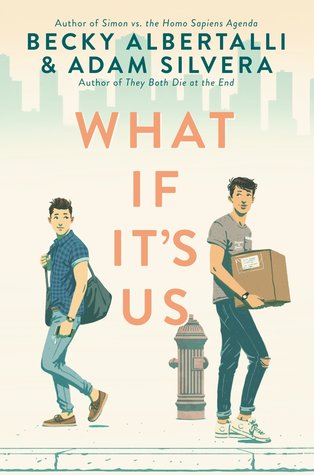 What books are you most excited for this month? Did I miss one of your most anticipated releases? Which new release has your favorite cover? Share below!