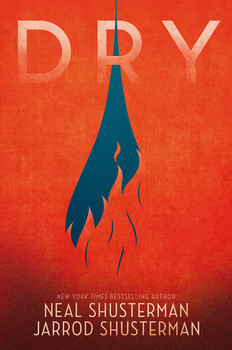 Title: Dry
Authors: Neal Shusterman, Jarrod Shusterman
Rating: ★★★★☆ (4.5 Stars)
Publisher: Simon & Schuster BFYR
Release Date: October 2, 2018
"It's so quiet now," I say. "It almost makes you forget what's out there." "Nothing out there but people," Henry points out. "People can be monsters. Whether it's just their actions, or whether it's who they really are, it doesn't matter. The result is the same." … "Sometimes you have to be the monster to survive."
---
Southern California is desperate for water, but there's nothing left and the tap has officially run dry. Neighbors begin to turn on each other and chaos is rising across the state. Alyssa's desperate to keep herself and her brother safe after her parents don't return from a mission to get water. She pairs with with unlikely allies in hopes of surviving. Dry is a gripping story of the lengths you'll go to survive, and if it's possible to live with yourself in the aftermath.
---
Things I Liked
I really loved that we got so many different POVs throughout the story, not only with the main characters, but also the snapshot chapters that showed what was happening around other parts of Southern California. The writing felt so personal, like a journal. It made it easy to feel like you were in the story.
The whole book is really a warning for global warming, climate change, and the inaction that doomed an entire state. And I loved that they addressed how the media decides what's newsworthy and important  enough to get coverage.
I don't know if I've ever been so anxious while reading a book. It was so eerie and thrilling it felt like a horror movie, waiting for other shoe to drop. And the overwhelming relief when you get some semblance of safety was this high that made this book a true rollercoaster.  
---
Things I Didn't Like
I didn't really love or connect with any of the characters. And it's a testament to the incredible writing that I was still so emotionally invested in the story. I thought Jacqui was kinda just mean and abrasive – I get it's literally an end-of-the-world situation, but I didn't necessarily want to root for her. Kelton had his moments, but he definitely did some sketchy things. Henry was a bit of a know-it-all and a try-hard. Overall, I didn't really latch onto anyone. I appreciate their selfishness and self preservation, but it just didn't really connect to the characters.
---
I had so many intense emotions while reading this that I actually had to pause a few times to collect myself. Neal and Jarrod Shusterman infuse drama and intensity into this collapsing world in a way that puts your heart in an aching state of desperation. Dry is really like no other book I've ever read, and it a truly unique experience.
I received a copy of the book from Simon & Schuster Books for Young Readers in exchange for an honest review.