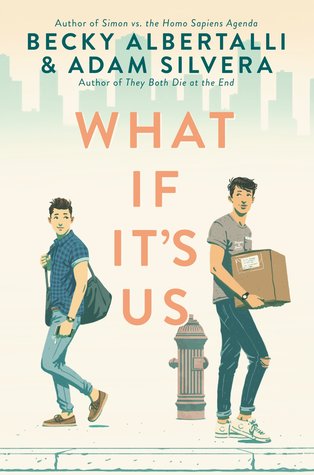 Title: What If It's Us
Authors: Becky Albertalli & Adam Silvera
Rating: ★★★★★
Publisher: HarperTeen
Release Date: October 9, 2018
"I believe in love at first sight. Fate, the universe, all of it. But not how you're thinking. I don't mean it in the our souls were split and you're my other half forever and ever sort of way. I just think you're meant to meet some people. I think the universe nudges them into your path."
---
This was not my favorite Becky Albertalli book or my favorite Adam Silvera book, but it combined elements I love from both of them into one wondrously awkward and endearing story, with realistic characters and envious relationships. What If It's Us follows Arthur Seuss as he's interning at his mom's New York office for the summer, and Ben Alejo who's in summer school with his ex. Ben and Arthur meet when Ben tries to mail back his ex's things and fate, the universe, or destiny interviens – pushing and pulling the two together in a beautiful story filled with laughs, heart, and drama.
---
Things I Liked 
Arthur and Ben have one of the most wonderfully awkward meet cute I've ever read about. It set a fantastic tone for their relationship and the story, showing the power in the belief of fate, but not taking itself too seriously.
Dylan and Ben's friendship is one of the greatest and unconditional relationships I've read in a long time. It was so pure and jovial and fill of love and light.
Arthur and Ben's romance is both slow and fast. There is this element of destiny and soulmates in the story, but it never felt contrived to me. I bought the connection the two shared and the relationship we see them build over their many first dates and joy and celebrating each other's successes and hobbies.
I personally loved the ending. It felt very satisfying and worthy of the story. It was all about soulmates and keeping the important people in your life, in your life.
---
Things I Didn't Like 
This story was a little too heavy on pop culture referencesfor me. I find that pop culture references can easily oversaturate a story and pull me out, and that definitely happened here. I think they all worked within the story and the character's lives, but it was too much for my tastes.
Everyone in this story turns into absentee friends when their in a relationship and I want all of them to grow out of this stupid phase. I would have loved to see more of the friendships, but all of them were really on the backburner and only mentioned briefly.
---
What If It's Us is a laugh out loud story that still manages to pull out your heartstrings and get you fully invested in these characters and their relationships. I had such a great time reading it and Arthur and Ben feel real to me. This is a story about family, fate, trust, and finding your person – and holding onto them.
I received a copy of the book from HarperTeen via Edelweiss in exchange for and honest review.