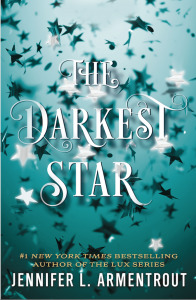 Title: The Darkest Star (Origins #1)
Author: Jennifer L. Armentrout
Rating: ★★★☆☆
Publisher: Tor Teen
Release Date: October 30, 2018
"Sometimes the truth is worse than the lie."
---
It was so much fun being back in this world and getting to revisit some beloved characters and learning more about the Origins – who had always interested me. I knew I would enjoy the story because I already like a lot of the characters – and as a character driven read, half the battle was already won. Getting to see cameos from Daemon, Archer, and some other characters from the Lux series was a real treat. I loved that we really got to know Luc more and see how he's changed and hardened after the war. I loved seeing his relationship with Evie develop – it was filled with excellent banter and high-class flirting. I really liked Evie as a character as well. She's resilient and brave, even she she's scared out of her mind. She was an easy character to get behind and support.
Some of the dialogue was so incredibly cheesy and cringey that I had to put the book down for a second. It was so extra and over-the-top, but I also think it's part of the charm for this kind of story that doesn't take itself too seriously and is honestly, just a good time. There was a lot of groundwork laid down for future books so I'm excited to see where the series takes us! (And hopefully we'll get to see some more old favorites again soon.)
I received a copy of the book from Tor Teen in exchange for an honest review.