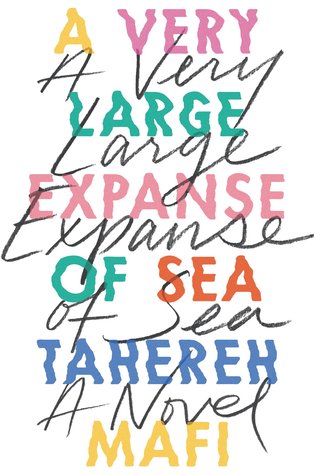 Title: A Very Large Expanse of Sea
Author: Tahere Mafi
Rating: ★★★★★
Publisher: HarperTeen
Release Date: October 16, 2018
"I was stuck in another small town, trapped in another universe populated by the kind of people who'd only ever seen faces like mine on their evening news, and I hated it."
---
This book came of of nowhere, grabbed ahold of my heart and didn't let it go. I didn't expect to be so completely enthralled by Shirin's story, but this book was filled with so much longing, pain, resentment, and hope that it was impossible for me to resist loving it with all that I am. A Very Large Expanse of Sea follows Shirin as her family moves to another new city, and she deals with the hate and degrading comments of being a Muslim teen in a very recent post, 9/11 world.
---
Things I Liked 
Shirin is such an amazing character. I loved her so much. She was allowed to be angry and to hold onto that anger and it did weigh her down at times, but it never defeated her. She refused to give them that power of her. My heart broke for her many times, but I was in awe of her just as many times too. She is resilient, powerful, and inspirational.
Give me a sibling story (or even a sibling subplot) and I will be a happy girl. I loved seeing Shirin and Navid's relationship through the story. Navid never shunned Shirin for being the tag-along little sister, and their time in dance rehearsals were some of my favorites. There's such genuine care and love between the two that I couldn't be happier seeing them spend time together.
I wasn't expecting romance to be such a large part of the story, but I was not mad at it. I really love Shirin and Oceanbudding romance and rooted for it from their first interaction. It felt so slow-burn and angsty even though this is such a short story, but their relationship never felt rushed. I loved getting to see them be open with each other and talk about their fears for the relationship and how their own experiences have shaped them as people.
This book pulled no punched in its discussions of Islamophobia, racism, white privilege. Parts actually felt painful to read as I saw what Shirin, and many other Muslim men and women, went through in the aftermath of 9/11. While it can be hard to read, it's necessary for these stories to be told and not allowed to be swept under the proverbial rug.
---
Things I Didn't Like
The ending while so bittersweet and perfect for the story, was the teensiest bit rushed I feel. I liked how the ending felt and left things off for the characters, but it all happened a little quick after the natural progression that the rest of the book had.
---
A Very Large Expanse of Sea was such an honestly raw story that finds its way into your heart and refuses to leave. I was expecting to enjoy this story, but I didn't know I would care so much about these characters and their relationships. I don't really know what else to say about this book, other that it's something you need to experience – and you will not regret picking it up.
I received a copy of the book from HarperTeen via Edelweiss in exchagne for an honest review
Are you excited to read A VERY LARGE EXPANSE OF SEA? If you've read it, what did you think? What's your favorite book from Tahereh Mafi? Share below!