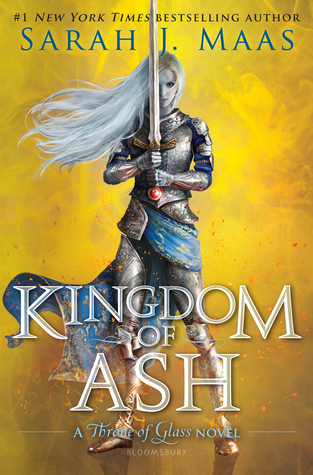 Title: Kingdom of Ash (Throne of Glass #7)
Author
:
Sarah J. Maas
Rating
: ★★★★★
Publisher
: Bloomsbury
Release Date
: October 26, 2018
"Once upon a time, in a land long since burned to ash, there lived a young princess who loved her kingdom"
---
I have never felt such brokenness and wholeness while reading a book.
 Kingdom of Ash 
truly broke me in ways that I did not expect, but the overwhelming hope and rightness of this story mended my heart in comforting and soothing ways. Kingdom of Ash is the culmination of Celaena Sardothian's epic journey to accepting herself and her fate and all the pains and sorrows that are attached to her name. It is a story worthy of song, of legend. It was a truly wondrous thing to behold.
---
Things I Liked
I loved the 
fairytale-like quality
 to the prologue, and really the entire story. It felt epic and right for this finale.
Aelin's journey
 was through this entire series is kind of amazing and heartbreaking all in one She grows as a person so much and really becomes who she was always meant to be without ignoring her past or the moments that shaped her, even though others try and shape her to who they want her to be. There was so much 
action and brutality
 that parts of the story were genuinely hard to read. But it was so appropriate and necessary for this story. The pain Aelin goes through was so visceral. The despair and hopelessness in some of the battles felt real and created this atmosphere where anything could happen and dangers were inevitable. The 
relationships
 in this series mean so much to me. Not only the romances, which I still enjoy, but the deep and vital friendships are the highlight for sure. They are some of the most important relationships and have such care and love and growth. The reunion and goodbye moments were some of the ones that got me emotionally. I was so 
emotionally invested
 in this story. It could have been 900 pages of menial tasks and the breeziest war known to man and I probably still would have loved it. I just cared about these characters and what was happening to them. I cried for a solid 150 pages near the end of the book.
---
Things I Didn't Like
My bias is going to show big time here, because I didn't really have that many problems with the story. Yes some moments felt convenient, parts seemed a little rushed, or "perfect" resolutions were introduced last minute, but I loved the overall story so much that my gripes were minimal at best and in no way affected my reading experience or enjoyment of the story.
---
The story demands an audience, but whispers the tale between breaths and pains, keeping the words close to heart. 
Kingdom of Ash
 is for those who have travel with Celaena, Chaol, and Dorian from Endovier all those years ago and remained by their side. Even with the many obstacles, detours, and distractions, this story was love letter to the fans, satisfying all our hopes and whims. I couldn't have asked for more and I am so content with this series. I feel like it's rested comfortably into my heart and has made its permanent home. Even if you didn't enjoy this finale or gave up on this series, I hope you find a story that brings you comfort and peace. It's truly a lovely feeling.
"As it had been once, so it was again. The beginning and end and eternity, a torrent of light, of life that flowed between them, two halves of a cleaved bloodline."