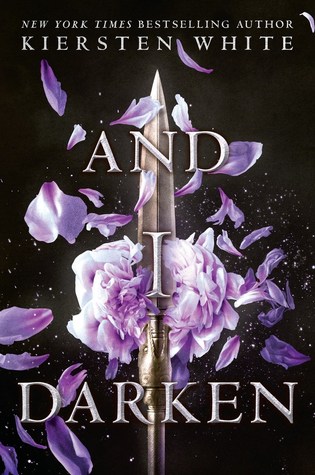 Title: And I Darken (The Conqueror's Saga #1)
Author: Kiersten White
Rating: ★★☆☆☆
Publisher: Delacorte Press
Release Date: June 28, 2016
"There is no such thing as cheating. There is only winning or losing. And I won."
---
I think that non-magical historicals and I don't mix. Or I'm just really picky with the historical stories that I like because I so wanted to love And I Darken, but sadly I did not. The story is a genderbent reimagining of Vlad the Impaler, chronicling Lada Dragwyla's quest for autonomy, respect, and power as she and her brother Radu are constantly used as pawns in political games in the Ottoman empire.
---
Things I Liked 
I love how much of this book was truly just a sibling story at its heart. The messy complicated relationship between Lada and Radu was compelling and interesting and I loved seeing it develop.
Radu is a precious angel whom I love wholeheartedly and want to protect at all costs. He is just a kind and gentle souls who deserves all the care and love and support and I will gladly give it.
---
Things I Didn't Like 
The beginning of the story when everyone was younger was sooooo dragging and boring. I could not wait to get past it and parts were kind of unbelievable. It was not the best start to the story for me.
I also feel like the story was super slow in the last half. At least the beginning had a lot of drive, but the second half felt much more stagnant and setting scenes for the future.
My low investment in the beginnings and the slow moving backhalf led to me skimming part of the book. I always have this twinge of disappointment when I skim parts of a book, but at least I'm invested enough to power through and keep reading.
---
Overall a pretty disappointing and underwhelming story for me. While I loved the sibling relationship, as always, and Radu is a new favorite character I honestly don't know if I want to continue with the series. A bit of a downer, but sort of how my November went.