Yes I know this is a day late but we're going to ignore that because I'm finally getting back into reading after the worst slump ever and it should be celebrated.
First Lines Fridays is a weekly feature for book lovers hosted by Wandering Words. What if instead of judging a book by its cover, its author or its prestige, we judged it by its opening lines?
Pick a book off your shelf (it could be your current read or on your TBR) and open to the first page
Copy the first few lines, but don't give anything else about the book away just yet – you need to hook the reader first
Finally… reveal the book!


---
Seven hundred and thirty-three days after my mom dies, forty-five days after my dad eloped with a stranger he met on the Internet, thirty days after we then up and moved to California, and only seven days after starting as a junior at a brand-new school where I know approximately on one, an email arrives.
FIND OUT THE BOOK BELOW!
↓   ↓   ↓   ↓   ↓
↓   ↓   ↓   ↓   ↓
↓   ↓   ↓   ↓   ↓
↓   ↓   ↓   ↓   ↓
↓   ↓   ↓   ↓   ↓
---
Tell Me Three Things 
by

Julie Buxbaum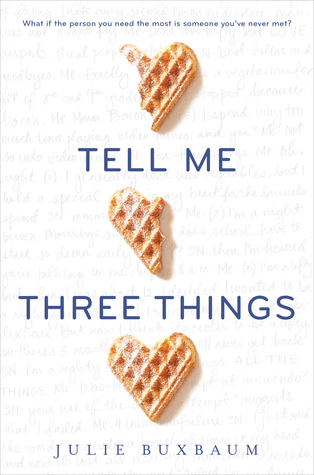 So the beginning of this is great and super engaging! I'm like 99% sure I know who S/N is and that's okay. This is a fluffy and easy story to read and exactly what I wanted right now.
---
Goodreads Synopsis: Everything about Jessie is wrong. At least, that's what it feels like during her first week of junior year at her new ultra-intimidating prep school in Los Angeles. Just when she's thinking about hightailing it back to Chicago, she gets an email from a person calling themselves Somebody/Nobody (SN for short), offering to help her navigate the wilds of Wood Valley High School. Is it an elaborate hoax? Or can she rely on SN for some much-needed help?
It's been barely two years since her mother's death, and because her father eloped with a woman he met online, Jessie has been forced to move across the country to live with her stepmonster and her pretentious teenage son.
In a leap of faith—or an act of complete desperation—Jessie begins to rely on SN, and SN quickly becomes her lifeline and closest ally. Jessie can't help wanting to meet SN in person. But are some mysteries better left unsolved?
---
Have you read any of Julie Buxbaum's books? Which is your favorite? Are they on your TBR? Share below!