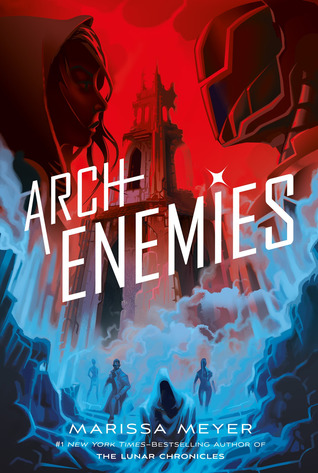 Title: Archenemies (Renegades #2)
Author: Marissa Meyer
Rating: ★★★★☆ (4.5 Stars)
Publisher: Feiwel & Friends
Release Date: November 6, 2018
"To know what this world could look like, what humanity could be, if only we all chose to do our best, to help others, to…to be, well, heroes."
---
I would like to personally thank Archenemies for saving my dreadful reading month. My October reading was the best I've have probably ever, but once November hit (or maybe it was a Kingdom of Ash hangover) but everything has been underwhelming, disappointing, or forgettable. But Archenemies arrived to save me. We still follow Nova, Adrian, and the other Renegades and Archists as they scheme, plot, and function in this superhero world.
---
Things I Liked 
The action is this series is so well done. While they are detailed and well-done, they aren't as brutal or gruesome and many fantasy stories. So they're effective, but easy to read.
Nova & Adrian are such a fantastic power duo that really compliments each other and I really love them together. They really do get to connect on a more personal level in this story and I loved seeing their relationship develop.
Nova Artino is such a badass and I love her so much. It is so easy for me to empathize with her and see from her point of view – and I tend to agree with her too. She is just so capable, smart, and well realized. She seemes like a real person, with superpowers and all.
---
Things I Didn't Like 
I kinda missed some of the character moments in this story. I feel like the rest of the team – both the Renegades and the Anarchists – were very much background characters more so than supporting. And I still need more Phobia.
---
Overall I had a really great time with this book and it made me even more excited for the last book in this trilogy. I think I'll love Nova forever and I loved seeing her relationship with Adrian develop. Such a fun and easy to read series!