Top Ten Tuesday is a weekly feature formerly hosted by The Broke and the Bookish and is currently hosted by The Artsy Reader Girl
So I know that the Most Anticipated books for 2019 was last week's topic, but I didn't get to do it, so it's happenning this week because I still want to share some of hte books I'm most excited about for the year. So because narrowing this list down to 10 would be impossible, I have 14. Most of these are releases from the first half of the year because I didn't want to snet a bajillion hours scouring every single release of 2019. So here are some of the releases I'm most excited about for 2019 in no particular order. 
*All release dates are taken from Goodreads and subject to change!
---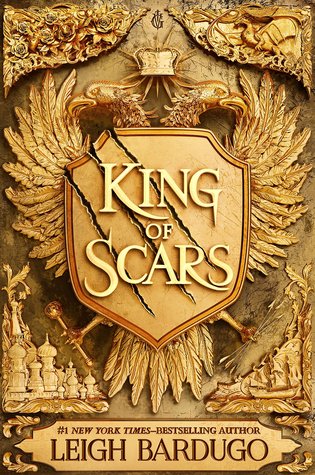 King of Scars by Leigh Bardugo | January 29, 2019
Nikolai Lantsov has always had a gift for the impossible. No one knows what he endured in his country's bloody civil war—and he intends to keep it that way. Now, as enemies gather at his weakened borders, the young king must find a way to refill Ravka's coffers, forge new alliances, and stop a rising threat to the once-great Grisha Army.
Yet with every day a dark magic within him grows stronger, threatening to destroy all he has built. With the help of a young monk and a legendary Grisha Squaller, Nikolai will journey to the places in Ravka where the deepest magic survives to vanquish the terrible legacy inside him. He will risk everything to save his country and himself. But some secrets aren't meant to stay buried—and some wounds aren't meant to heal.
---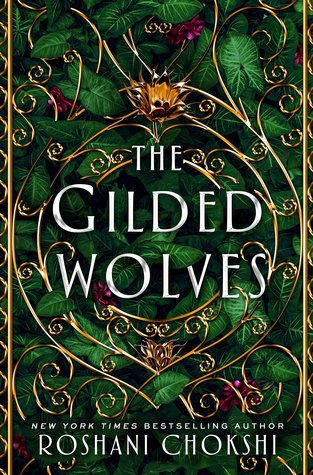 The Gilded Wolves by Roshani Chokshi | January 15, 2019
Paris, 1889: The world is on the cusp of industry and power, and the Exposition Universelle has breathed new life into the streets and dredged up ancient secrets. In this city, no one keeps tabs on secrets better than treasure-hunter and wealthy hotelier, Séverin Montagnet-Alarie. But when the all-powerful society, the Order of Babel, seeks him out for help, Séverin is offered a treasure that he never imagined: his true inheritance.
To find the ancient artifact the Order seeks, Séverin will need help from a band of experts: An engineer with a debt to pay. A historian who can't yet go home. A dancer with a sinister past. And a brother in all but blood, who might care too much.
Together, they'll have to use their wits and knowledge to hunt the artifact through the dark and glittering heart of Paris. What they find might change the world, but only if they can stay alive.
---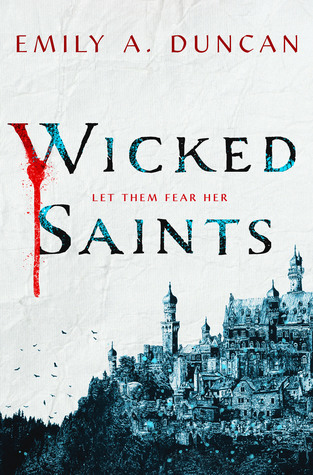 Wicked Saints by Emily A. Duncan | April 2 , 2019
A girl who can speak to gods must save her people without destroying herself.
A prince in danger must decide who to trust.
A boy with a monstrous secret waits in the wings.
Together, they must assassinate the king and stop the war.
In a centuries-long war where beauty and brutality meet, their three paths entwine in a shadowy world of spilled blood and mysterious saints, where a forbidden romance threatens to tip the scales between dark and light.
---
The Black Coats by Colleen Oakes | February 12, 2019
Roses are read, violets are blue, if you hurt us, we're coming for you.
The deeply secretive Black Coats have been exacting vengeance on men who hurt girls and women for years. And Thea has just received an invitation to join them. This is the opportunity she's been waiting for to finally get justice for her cousin Natalie, whose killer went free.
Thea dives head first into the group, training every day with other girls whose stories rival hers. Together they carry out Balancings—acts of revenge guaranteed to teach a lesson. With every predator threatened, every blackmailer exposed, and every date rapist punished, Thea can feel herself getting closer to avenging Natalie's death.
But then the Balancings begin to escalate in brutality, and Thea discovers that the Black Coats are not all they seem to be. Thea must confront just how far she's willing to go for justice—and what kind of justice Natalie, and Thea herself, deserve. Because when the line between justice and revenge is razor thin, it's hard not to get cut.
---
The Exact Opposite of Okay by Laura Steven | June 11, 2019
Izzy O'Neill is an aspiring comic, an impoverished orphan, and a Slut Extraordinaire. Or at least, that's what the malicious website flying round the school says. Izzy can try all she wants to laugh it off – after all, her sex life, her terms – but when pictures emerge of her doing the dirty with a politician's son, her life suddenly becomes the centre of a national scandal. Izzy's never been ashamed of herself before, and she's not going to start now. But keeping her head up will take everything she has…
---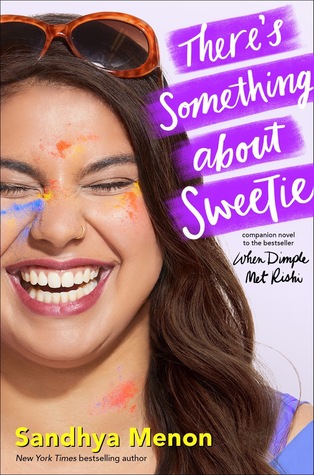 There's Something About Sweetie by Sandhya Menon | May 14, 2019
Ashish Patel didn't know love could be so…sucky. After he's dumped by his ex-girlfriend, his mojo goes AWOL. Even worse, his parents are annoyingly, smugly confident they could find him a better match. So, in a moment of weakness, Ash challenges them to set him up.
The Patels insist that Ashish date an Indian-American girl—under contract. Per subclause 1(a), he'll be taking his date on "fun" excursions like visiting the Hindu temple and his eccentric Gita Auntie. Kill him now. How is this ever going to work?
Sweetie Nair is many things: a formidable track athlete who can outrun most people in California, a loyal friend, a shower-singing champion. Oh, and she's also fat. To Sweetie's traditional parents, this last detail is the kiss of death.
Sweetie loves her parents, but she's so tired of being told she's lacking because she's fat. She decides it's time to kick off the Sassy Sweetie Project, where she'll show the world (and herself) what she's really made of.
Ashish and Sweetie both have something to prove. But with each date they realize there's an unexpected magic growing between them. Can they find their true selves without losing each other?
---
Sorcery of Thorns by Margaret Rogerson | June 4, 2019
All sorcerers are evil. Elisabeth has known that as long as she has known anything. Raised as a foundling in one of Austermeer's Great Libraries, Elisabeth has grown up among the tools of sorcery—magical grimoires that whisper on shelves and rattle beneath iron chains. If provoked, they transform into grotesque monsters of ink and leather. She hopes to become a warden, charged with protecting the kingdom from their power.
Then an act of sabotage releases the library's most dangerous grimoire. Elisabeth's desperate intervention implicates her in the crime, and she is torn from her home to face justice in the capital. With no one to turn to but her sworn enemy, the sorcerer Nathaniel Thorn, and his mysterious demonic servant, she finds herself entangled in a centuries-old conspiracy. Not only could the Great Libraries go up in flames, but the world along with them.
As her alliance with Nathaniel grows stronger, Elisabeth starts to question everything she's been taught—about sorcerers, about the libraries she loves, even about herself. For Elisabeth has a power she has never guessed, and a future she could never have imagined.
---
The Boy and Girl Who Broke the World by Amy Reed | July 9, 2019
Billy Sloat and Lydia Lemon don't have much in common, unless you count growing up on the same (wrong) side of the tracks, the lack of a mother, and a persistent loneliness that has inspired creative coping mechanisms.
When the lives of these two loners are thrust together, Lydia's cynicism is met with Billy's sincere optimism, and both begin to question their own outlook on life. On top of that, weird happenings including an impossible tornado and an all-consuming fog are cropping up around them—maybe even because of them. And as the two grow closer and confront bigger truths about their pasts, they must also deal with such inconveniences as a narcissistic rock star, a war between unicorns and dragons, and eventually, of course, the apocalypse.
---
Warrior of the Wild by Tricia Levenseller | February 26, 2019
How do you kill a god?
As her father's chosen heir, eighteen-year-old Rasmira has trained her whole life to become a warrior and lead her village. But when her coming-of-age trial is sabotaged and she fails the test, her father banishes her to the monster-filled wilderness with an impossible quest: to win back her honour, she must kill the oppressive god who claims tribute from the villages each year or die trying.
---
If I'm Being Honest by Emily Wibberley & Austin Siegemund-Broka | April 23, 2019
High school senior Cameron Bright's reputation can be summed up in one word: bitch. It's no surprise she's queen bee at her private L.A. high school—she's beautiful, talented, and notorious for her cutting and brutal honesty. So when she puts her foot in her mouth in front of her crush, Andrew, she fears she may have lost him for good.
In an attempt to win him over, Cameron resolves to "tame" herself, much like Katherine in Shakespeare's The Taming of the Shrew. First, she'll have to make amends with those she's wronged, which leads her to Brendan, the guy she labelled with an unfortunate nickname back in the sixth grade. At first, Brendan isn't all that receptive to Cameron's ploy. But slowly, he warms up to her when they connect over the computer game he's developing. Now if only Andrew would notice…
But the closer Cameron gets to Brendan, the more she sees he appreciates her personality—honesty and all—and wonders if she's compromising who she is for the guy she doesn't even want.
---
Again, But Better by Christine Riccio | May 7, 2019
Shane has been doing college all wrong. Pre-med, stellar grades, and happy parents…sounds ideal — but Shane's made zero friends, goes home every weekend, and romance…what's that?
Her life has been dorm, dining hall, class, repeat. Time's a ticking, and she needs a change — there's nothing like moving to a new country to really mix things up. Shane signs up for a semester abroad in London. She's going to right all her college mistakes: make friends, pursue boys, and find adventure!
Easier said than done. She is soon faced with the complicated realities of living outside her bubble, and when self-doubt sneaks in, her new life starts to fall apart.
Shane comes to find that, with the right amount of courage and determination one can conquer anything. Throw in some fate and a touch of magic – the possibilities are endless.
---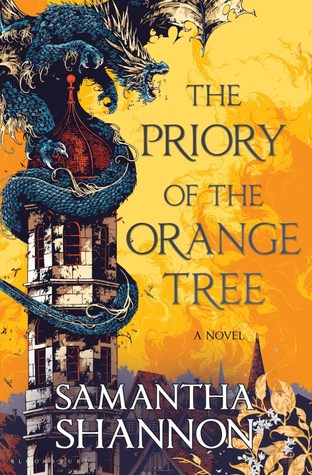 The Priory of the Orange Tree by Samantha Shannon | February 26, 2019
The House of Berethnet has ruled Inys for a thousand years. Still unwed, Queen Sabran the Ninth must conceive a daughter to protect her realm from destruction—but assassins are getting closer to her door.
Ead Duryan is an outsider at court. Though she has risen to the position of lady-in-waiting, she is loyal to a hidden society of mages. Ead keeps a watchful eye on Sabran, secretly protecting her with forbidden magic.
Across the dark sea, Tané has trained all her life to be a dragonrider, but is forced to make a choice that could see her life unravel.
Meanwhile, the divided East and West refuse to parley, and forces of chaos are rising from their sleep.
---
The Starless Sea by Erin Morgenstern | November 5, 2019
Zachary Ezra Rawlins is a graduate student in Vermont when he discovers a strange book hidden in the library stacks. As he turns the pages, entranced by tales of lovelorn prisoners, key collectors, and nameless acolytes, he reads something strange: a story from his own childhood. Bewildered by this inexplicable book and desperate to make sense of how his own life came to be recorded, Zachary uncovers a series of clues — a bee, a key, and a sword — that lead him to a masquerade party in New York, to a secret club, and through a doorway to a subterranean library, hidden far below the surface of the earth.
What Zachary finds in this curious place is more than just a buried home for books and their guardians — it is a place of lost cities and seas, lovers who pass notes under doors and across time, and of stories whispered by the dead. Zachary learns of those who have sacrificed much to protect this realm, relinquishing their sight and their tongues to preserve this archive, and also those who are intent on its destruction. Together with Mirabel, a fierce, pink-haired protector of the place, and Dorian, a handsome barefoot man with shifting alliances, Zachary travels the twisting tunnels, darkened stairwells, crowded ballrooms, and sweetly soaked shores of this magical world, discovering his purpose — in both the mysterious book and in his own life.
---
Children of Virtue and Vengeance by Tomi Adeyemi |June 4, 2019
After battling the impossible, Zélie and Amari have finally succeeded in bringing magic back to the land of Orïsha. But the ritual was more powerful than they could've imagined, reigniting the powers of not only the maji, but of nobles with magic ancestry, too.
Now, Zélie struggles to unite the maji in an Orïsha where the enemy is just as powerful as they are. But when the monarchy and military unite to keep control of Orïsha, Zélie must fight to secure Amari's right to the throne and protect the new maji from the monarchy's wrath.
With civil war looming on the horizon, Zélie finds herself at a breaking point: she must discover a way to bring the kingdom together or watch as Orïsha tears itself apart.
So these are some of the 2019 releases I'm most excited for! Now I know I'm pribably missing a ton of books, so feel free to leave some of your top releases in the comments below!
---
---
---
What are you most excited for in 2019? Did any of these make your list? Share below!!!