Top Ten Tuesday is a weekly feature formerly hosted by The Broke and the Bookish and is currently hosted by The Artsy Reader Girl
This week's Top 10 Tuesday post is super fun because we get to share the most recent additions to our ever growing TBRs. I haven't done a deep dive of the books being released in the later half of 2019 so I'm expecting to get some major inspiration from everyone else's posts. So here are the 10 most recent additions to my Goodreads TBR shelf.
---
Kingdom of Souls by Rena Barron | Set in a West African-inspired fantasy kingdom, a girl descended from a long line of powerful witchdoctors, fails at magic, fails to call upon the ancestors, and can't even cast the simplest curse. But when her kingdom is threatened by the terrible Demon King, she must trade years off her life for magic to stop him from destroying the world—that is if it doesn't kill her first.
---
Daisy Jones & The Six by Taylor Jenkins Reid | Everyone knows Daisy Jones & The Six, but nobody knows the reason behind their split at the absolute height of their popularity . . . until now.
Daisy is a girl coming of age in L.A. in the late sixties, sneaking into clubs on the Sunset Strip, sleeping with rock stars, and dreaming of singing at the Whisky a Go Go. The sex and drugs are thrilling, but it's the rock and roll she loves most. By the time she's twenty, her voice is getting noticed, and she has the kind of heedless beauty that makes people do crazy things.
Also getting noticed is The Six, a band led by the brooding Billy Dunne. On the eve of their first tour, his girlfriend Camila finds out she's pregnant, and with the pressure of impending fatherhood and fame, Billy goes a little wild on the road.
Daisy and Billy cross paths when a producer realizes that the key to supercharged success is to put the two together. What happens next will become the stuff of legend.
The making of that legend is chronicled in this riveting and unforgettable novel, written as an oral history of one of the biggest bands of the seventies. Taylor Jenkins Reid is a talented writer who takes her work to a new level with Daisy Jones & The Six, brilliantly capturing a place and time in an utterly distinctive voice.
---
The Downstairs Girl by Stacey Lee | By day, seventeen-year-old Jo Kuan works as a lady's maid for the cruel daughter of one of the wealthiest men in Atlanta. But by night, Jo moonlights as the pseudonymous author of a newspaper advice column for the genteel Southern lady, "Dear Miss Sweetie." When her column becomes wildly popular, she uses the power of the pen to address some of society's ills, but she's not prepared for the backlash that follows when her column challenges fixed ideas about race and gender.
While her opponents clamor to uncover the secret identity of Miss Sweetie, a mysterious letter sets Jo off on a search for her own past and the parents who abandoned her as a baby. But when her efforts put her in the crosshairs of Atlanta's most notorious criminal, Jo must decide whether she, a girl used to living in the shadows, is ready to step into the light.
---
Night Music by Jenn Marie Thorne | Ruby has always been Ruby Chertok future classical pianist, heir to the Chertok family legacy, daughter of renowned composer Martin Chertok. But after bungling her audition for the prestigious Amberley School of Music–where her father is on faculty–Ruby is suddenly just . . . Ruby. And who is that again? All she knows is that she wants out of the orbit of her relentlessly impressive family, and away from the world of classical music for good. Yes? Yes. 
Oscar is a wunderkind, a musical genius. Just ask any of the 1.8 million people who've watched him conduct his own compositions on YouTube–or hey, just ask Oscar. But while he might be the type who'd name himself when asked about his favorite composer and somehow make you love him more for it, Oscar is not the type to jeopardize his chance to study under the great Martin Chertok–not for a crush. He's all too aware of how the ultra-privileged, ultra-white world of classical music might interpret a black guy like him falling for his benefactor's white daughter. Right? Right.
But as the New York City summer heats up, so does the spark between Ruby and Oscar. Soon their connection crackles with the same alive, uncontainable energy as the city itself. But can two people still figuring themselves out figure out how to be together? Or will the world make the choice for them?
---
No One Here is Lonely by Sarah Everett | Our entire lives are online, but what if the boy you love actually lives there? For fans of Adam Silvera comes a story about the future of relationships.
Eden has always had two loves: her best friend, Lacey, and her crush, Will. And then, almost simultaneously, she loses them both. Will to a car accident and Lacey to the inevitable growing up and growing apart.
Devastated by the holes they have left in her life, Eden finds solace in an unlikely place. Before he died, Will set up an account with In Good Company, a service that uploads voices and emails and creates a digital companion that can be called anytime, day or night. It couldn't come at a better time because, after losing Lacey–the hardest thing Eden has had to deal with–who else can she confide all her secrets to? Who is Eden without Lacey?
As Eden falls deeper into her relationship with "Will," she hardly notices as her real life blooms around her. There is a new job, new friends. Then there is Oliver. He's Lacey's twin, so has always been off-limits to her, until now. He may be real, but to have him, will Eden be able to say goodbye to Will?
---
Technically, You Started It by Lana Wood Johnson | When a guy named Martin Nathaniel Munroe II texts you, it should be obvious who you're talking to. Except there's two of them (it's a long story), and Haley thinks she's talking to the one she doesn't hate.
A question about a class project rapidly evolves into an all-consuming conversation. Haley finds that Martin is actually willing to listen to her weird facts and unusual obsessions, and Martin feels like Haley is the first person to really see who he is. Haley and Martin might be too awkward to hang out in real life, but over text, they're becoming addicted to each other.
There's just one problem: Haley doesn't know who Martin is. And Martin doesn't know that Haley doesn't know. But they better figure it out fast before their meet-cute becomes an epic meet-disaster . . .
---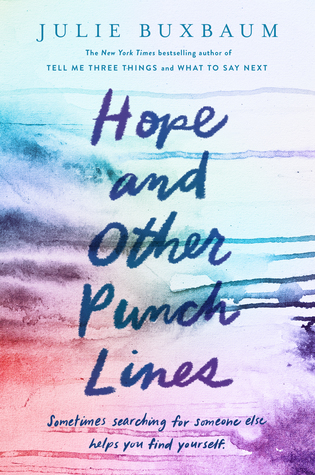 Hope and Other Punchlines by Julie Buxbaum | Sometimes looking to the past helps you find your future.
Abbi Hope Goldstein is like every other teenager, with a few smallish exceptions: her famous alter ego, Baby Hope, is the subject of internet memes, she has asthma, and sometimes people spontaneously burst into tears when they recognize her. Abbi has lived almost her entire life in the shadow of the terrorist attacks of September 11. On that fateful day, she was captured in what became an iconic photograph: in the picture, Abbi (aka "Baby Hope") wears a birthday crown and grasps a red balloon; just behind her, the South Tower of the World Trade Center is collapsing.
Now, fifteen years later, Abbi is desperate for anonymity and decides to spend the summer before her seventeenth birthday incognito as a counsellor at Knights Day Camp two towns away. She's psyched for eight weeks in the company of four-year-olds, none of whom have ever heard of Baby Hope.
Too bad Noah Stern, whose own world was irrevocably shattered on that terrible day, has a similar summer plan. Noah believes his meeting Baby Hope is fate. Abbi is sure it's a disaster. Soon, though, the two team up to ask difficult questions about the history behind the Baby Hope photo. But is either of them ready to hear the answers?
---
The Bone Season by Samantha Shannon | The year is 2059. Nineteen-year-old Paige Mahoney is working in the criminal underworld of Scion London, based at Seven Dials, employed by a man named Jaxon Hall. Her job: to scout for information by breaking into people's minds. For Paige is a dreamwalker, a clairvoyant and, in the world of Scion, she commits treason simply by breathing.
It is raining the day her life changes for ever. Attacked, drugged and kidnapped, Paige is transported to Oxford – a city kept secret for two hundred years, controlled by a powerful, otherworldly race. Paige is assigned to Warden, a Rephaite with mysterious motives. He is her master. Her trainer. Her natural enemy. But if Paige wants to regain her freedom she must allow herself to be nurtured in this prison where she is meant to die.
The Bone Season introduces a compelling heroine and also introduces an extraordinary young writer, with huge ambition and a teeming imagination. Samantha Shannon has created a bold new reality in this riveting debut.
---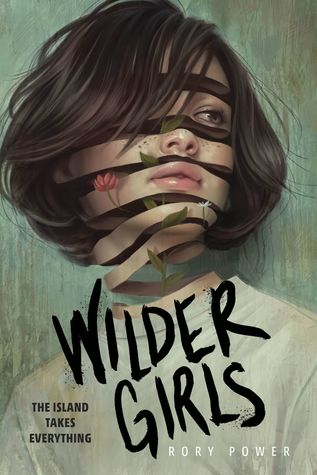 Wilder Girls by Rory Power | It's been eighteen months since the Raxter School for Girls was put under quarantine. Since the Tox hit and pulled Hetty's life out from under her.
It started slow. First the teachers died one by one. Then it began to infect the students, turning their bodies strange and foreign. Now, cut off from the rest of the world and left to fend for themselves on their island home, the girls don't dare wander outside the school's fence, where the Tox has made the woods wild and dangerous. They wait for the cure they were promised as the Tox seeps into everything.
But when Byatt goes missing, Hetty will do anything to find her, even if it means breaking quarantine and braving the horrors that lie beyond the fence. And when she does, Hetty learns that there's more to their story, to their life at Raxter, than she could have ever thought true.
---
Watch Us Rise by Renée Watson and Ellen Hagan| Jasmine and Chelsea are sick of the way women are treated even at their progressive NYC high school, so they decide to start a Women's Rights Club. They post everything online—poems, essays, videos of Chelsea performing her poetry, and Jasmine's response to the racial macroaggressions she experiences—and soon they go viral. But with such positive support, the club is also targeted by online trolls. When things escalate, the principal shuts the club down. Jasmine and Chelsea will risk everything for their voices—and those of other young women—to be heard.
---
Are any of these books on your TBR? Share below!