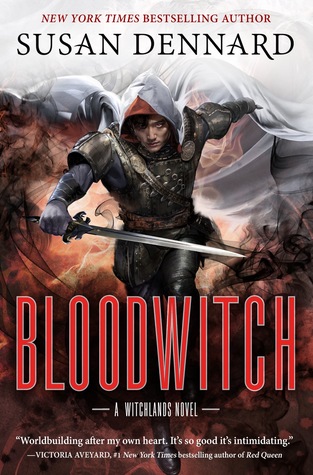 Title: Bloodwitch (Witchlands #3)
Author: Susan Dennard
Rating: ★★☆☆☆ (2.5 Stars)
Publisher: Tor Teen
Release Date: February 19, 2019
---
If I'm being honest, I feel like this series all kinda blends together and not a lot has happened. Yes the characters are in different places physically, but I feel like they're still all the same (except for Merrik) and I don't really feel like I know them. Or maybe I'm just not connecting with the characters, so I'm not invested even if there was a plot. I don't know.
I was excited to read Bloodwitch, because I did enjoy Windwitch more than Truthwitch and I desperately want to fall in love with this series, but I just don't think it's happening. Bloodwitch allows the Voidwitch Aeduan to take the lead as the characters continue to fight for their survival in this epic fantasy series.
---
Things I Liked 
I really loved the prologue of the story. Getting to see young Aeduan and learning a bit about his background was great. It was the most sympathetic he's been and really let me feel for him. He was suddenly a person, not just this figure we're told is fearsome and tragic.
I thought Safi exploring the bounds and abilities of her magic was great. I loved seeing her working and being so active. She wasn't just and impulsive person. And the idea of being able to make different kinds of witchery stones is super cool.
---
Things I Didn't Like 
I feel like there's this recurring problem I have with this series where I only like one storyline in the book and the others drag or I actively dislike them. I don't like the Weaverwitch storyline at all, so there was large sections of this book that I did not enjoy. I don't really care about Owl so the first half of Iseult and Aeduan's story lines was incredibly boring for me. And like I mentioned above, Safi's storyline was my favorite. I just don't have the desire to read when I picked the book up. I was excited to get to Safi's chapters, but where I got to Merrik, Esme, Owl, or Vivia is was just too easy for me to put the book down and do something else.
While I loved how the setting was established in book one – the different types of Witchery, the Origin Wells, the Truce and a tense political history between Empires – I don't feel like the world has expanded since the beginning. Yes we're learning a bit more each book, but it doesn't feel cohesive or like it's paining this bigger picture. It's just bits of information we're given, but I still feel like I'm missing so much. And even though a different character is the focus for the different books, they're still mostly a mystery. I maybe learned 2 things about Aeduan in this story that wasn't already established.
---
I'm just not getting the development – plot or character wise- that I want from this series so it constantly feels like we're ending up the same place we start. I think that the side characters are stealing the show for me because I am intrigued by the Hell-Bards, Vaness is strong, capable, and a badass, and Leopold is just a fun POV to read from. I just don't know where I stand with this series. I want to love it so much, but I constantly feel let down or apathetic and it sucks. Bloodwitch was another solid entry that I'm sure many fans will love, but I'm still waiting for the spark.
I received a copy of the book from Tor Teen in exchange for an honest review.