Top Ten Tuesday is a weekly feature formerly hosted by The Broke and the Bookish and is currently hosted by The Artsy Reader Girl
This week's Top 10 Tuesday post is super fun because we get to share some of our favorite hidden gems! Today we're focusing on books with less than 2,000 ratings on goodreads. Now it can be tough to find  such hidden treasures, but it makes the discovery all the more memorable!
---
That's Not What I Heard by Stephanie Kate Strohm | 34 Ratings
What did you hear?
Kimberly Landis-Lilley and Teddy Lin are over. Yes, the Kim and Teddy broke up.
At least that's what Phil Spooner thinks he overheard and then told Jess Howard, Kim's best friend. Something about Teddy not liking Kim's Instas? Or was it that Teddy is moving to Italy and didn't want to do long distance? Or that Kim slid into someone else's DMs? 
Jess told her boyfriend, Elvis, that he needs to be on Kim's side. Especially if he wants to keep her as his girlfriend. But Elvis is also Teddy's best friend. 
Now, Kim's run out of school for the day. Jess is furious. Elvis is confused. And half the lunch period won't talk to Teddy. Even the teachers have taken sides. 
William Henry Harrison High will never be the same again!
---
You Asked For Perfect by Laura Silverman | 150 Ratings
Senior Ariel Stone is the perfect college applicant: first chair violin, dedicated community volunteer, and expected valedictorian. He works hard – really hard – to make his life look effortless. A failed Calculus quiz is not part of that plan. Not when he's number one. Not when his peers can smell weakness like a freshman's body spray.
Figuring a few all-nighters will preserve his class rank, Ariel throws himself into studying. His friends will understand if he skips a few plans, and he can sleep when he graduates. Except Ariel's grade continues to slide. Reluctantly, he gets a tutor. Amir and Ariel have never gotten along, but Amir excels in Calculus, and Ariel is out of options.
Ariel may not like Calc, but he might like Amir. Except adding a new relationship to his long list of commitments may just push him past his limit. 
---
What You Left Me by Bridget Morrissey | 170 Ratings
Martin and Petra meet for the first time at graduation, and though they've shared the halls of their high school for four years without crossing paths, there's an instant connection the moment they're seated next to each other at the commencement ceremony.
Then a car accident puts Martin into a coma, and Petra is somehow left picking up the pieces, using friends, family, and shared dreams to keep their surprise connection going.
Together they must unlock the truth of his situation, and with time running out, their bond becomes Martin's best shot at waking back up to the life he's left behind.
---
Girl on the Verge by Pintip Dunn | 202 Ratings
How far would you go to belong?
In her small Kansas town, at her predominantly white school, Kanchana doesn't look like anyone else. But at home, her Thai grandmother chides her for being too westernized. Only through the clothing Kan designs in secret can she find a way to fuse both cultures into something distinctly her own.
When her mother agrees to provide a home for a teenage girl named Shelly, Kan sees a chance to prove herself useful. Making Shelly feel comfortable is easy at first—her new friend is eager to please, embraces the family's Thai traditions, and clearly looks up to Kan. Perhaps too much. Shelly seems to want everything Kanchana has, even the blond, blue-eyed boy she has a crush on. As Kan's growing discomfort compels her to investigate Shelly's past, she's shocked to find how much it intersects with her own—and just how far Shelly will go to belong…
---
Our Stories, Our Voices edited by Amy Reed | 270 Ratings
From Amy Reed, Ellen Hopkins, Amber Smith, Sandhya Menon, and more of your favorite YA authors comes an anthology of essays that explore the diverse experiences of injustice, empowerment, and growing up female in America.
This collection of twenty-one essays from major YA authors—including award-winning and bestselling writers—touches on a powerful range of topics related to growing up female in today's America, and the intersection with race, religion, and ethnicity. Sure to inspire hope and solidarity to anyone who reads it, Our Stories, Our Voices belongs on every young woman's shelf.
This anthology features essays from Martha Brockenbrough, Jaye Robin Brown, Sona Charaipotra, Brandy Colbert, Somaiya Daud, Christine Day, Alexandra Duncan, Ilene Wong (I.W.) Gregorio, Maurene Goo, Ellen Hopkins, Stephanie Kuehnert, Nina LaCour, Anna-Marie McLemore, Sandhya Menon, Hannah Moskowitz, Julie Murphy, Aisha Saeed, Jenny Torres Sanchez, Amber Smith, and Tracy Walker.
---
The Seven Torments of Amy and Craig by Don Zolidis | 382 Ratings
Janesville, Wisconsin (cold in the sense that there is no God)
1994
The worst thing that's ever happened to Craig is also the best: Amy. Amy and Craig never should've gotten together. Craig is an awkward, Dungeons & Dragons-playing geek, and Amy is the beautiful, fiercely intelligent student-body president of their high school.
Yet somehow they did. Until Amy dumped him. Then got back together with him. Then dumped him again. Then got back together with him again. Over and over and over.
Unfolding during their senior year, Amy and Craig's exhilarating, tumultuous relationship is a kaleidoscope of joy, pain, and laughter as an uncertain future-and adult responsibility-loom on the horizon.
Craig fights for his dream of escaping Janesville and finding his place at a quirky college, while Amy's quest to uncover her true self sometimes involves being Craig's girlfriend?and sometimes doesn't.
Seven heartbreaks. Seven joys.Told nonsequentially, acclaimed playwright Don Zolidis's debut novel is a brutally funny, bittersweet taste of the utterly unique and utterly universal experience of first love.
---
Even If I Fall by Abigail Johnson | 401 Ratings
A year ago, Brooke Covington lost everything when her beloved older brother, Jason, confessed to the murder of his best friend, Calvin. Brooke and her family became social pariahs, broken and unable to console one another. Brooke's only solace remains the ice-skating rink, where she works but no longer lets herself dream about a future skating professionally.
When Brooke encounters Calvin's younger brother, Heath, on the side of the road and offers him a ride, everything changes. She needs someone to talk to…and so does Heath. No one else understands what it's like. Her brother, alive but gone; his brother, dead but everywhere. Soon, they're meeting in secret, despite knowing that both families would be horrified if they found out. In the place of his anger and her guilt, something frighteningly tender begins to develop, drawing them ever closer together.
But when a new secret comes out about the murder, Brooke has to choose whose pain she's willing to live with—her family's or Heath's. Because she can't heal one without hurting the other.
---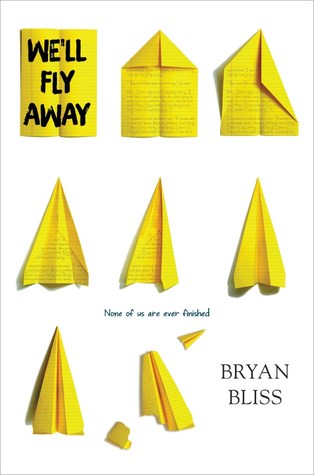 We'll Fly Away by Bryan Bliss | 659 Ratings
Uniquely told through letters from death row and third-person narrative, Bryan Bliss's hard-hitting third novel expertly unravels the string of events that landed a teenager in jail. Luke feels like he's been looking after Toby his entire life. He patches Toby up when Toby's father, a drunk and a petty criminal, beats on him, he gives him a place to stay, and he diffuses the situation at school when wise-cracking Toby inevitably gets into fights. Someday, Luke and Toby will leave this small town, riding the tails of Luke's wrestling scholarship, and never look back.
But during their senior year, they begin to drift apart. Luke is dealing with his unreliable mother and her new boyfriend. And Toby unwittingly begins to get drawn into his father's world, and falls for an older woman. All their long-held dreams seem to be unraveling. Tense and emotional, this heartbreaking novel explores family, abuse, sex, love, friendship, and the lengths a person will go to protect the people they love. 
---
Kat and Meg Conquer the World by Anna Priemaza | 736 Ratings
Kat and Meg couldn't be more different. Kat's anxiety makes it hard for her to talk to people. Meg hates being alone, but her ADHD keeps pushing people away. But when the two girls are thrown together for a year-long science project, they discover they do have one thing in common: They're both obsessed with the same online gaming star and his hilarious videos.
It might be the beginning of a beautiful friendship—if they don't kill each other first. 
---
Speak Easy, Speak Love by McKelle George | 755 Ratings
Six teenagers' lives intertwine during one thrilling summer full of romantic misunderstandings and dangerous deals in this sparkling retelling of Shakespeare's Much Ado About Nothing.
After she gets kicked out of boarding school, seventeen-year-old Beatrice goes to her uncle's estate on Long Island. But Hey Nonny Nonny is more than just a rundown old mansion. Beatrice's cousin, Hero, runs a struggling speakeasy out of the basement—one that might not survive the summer. Along with Prince, a poor young man determined to prove his worth; his brother John, a dark and dangerous agent of the local mob; Benedick, a handsome trust-fund kid trying to become a writer; and Maggie, a beautiful and talented singer; Beatrice and Hero throw all their efforts into planning a massive party to save the speakeasy. Despite all their worries, the summer is beautiful, love is in the air, and Beatrice and Benedick are caught up in a romantic battle of wits that their friends might be quietly orchestrating in the background.
---
So all of these ended up having less than 1,000 ratings on Goodreads! I have reviews for all of these books up on my blog, just go to my review by author page to find them super easily and see all of my thoughts!
Have you read any of them? Share below!