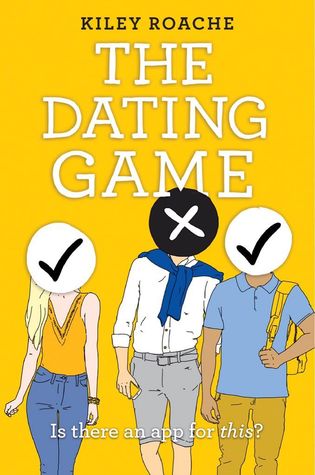 Title: The Dating Game
Author: Kiley Roache
Rating: ★★★☆☆
Publisher: Inkyard Press
Release Date: March 5, 2019
---
The Dating Game details the ups and downs of 3 college freshmen as they develop the new "it" app for on-campus dating for the notoriously difficult future entrepreneur class. Love, drama, and laughs ensue in this fun and quick read from Kiley Roache, perfect book for a single sitting.
Things I Liked 
I love having college settings in books. The characters have more freedom and independence and let the situations be more mature and dramatic.
Girls in STEM fields is always a plus as well – and the genuine and supportive friendship between Sara and Yaz was wonderful.
Roberto was most definitely my favorite character and I loved him with everything in my heart. He is so kind and really just a perfect person. And he has one of the most beautiful inner monologues about lost love that was so supremely lovely. His relationship with his dad wonderful too. They have such a tight knit relationship after Roberto's mom was deported when he was younger – it's a horrible reality that is not shied away from in the story.
Things I Didn't Like 
I get the whole point of the story is a dating app, but I unfortunately wasn't really sold on any of the romances in the story. I didn't even mind that there was a bit of a love triangle because I genuinely hate one couple/thought they had no chemistry and thought the other wasn't given enough buildup so I was largely uninvested.
Braden is the worst! He is the embodiment of white male privilege and arrogance and he sucks as a human being.
The Dating Game is a easy to read story that will entertain and frustrate you at the same time. While I didn't love the romances – and that is definitely a bigger part of the story – I thought that the story did have some wonderful character moments, especially from Roberto, that made me enjoy it.
I received a copy of the book from Inkyard Press via Edelweiss in exchange for an honest review.