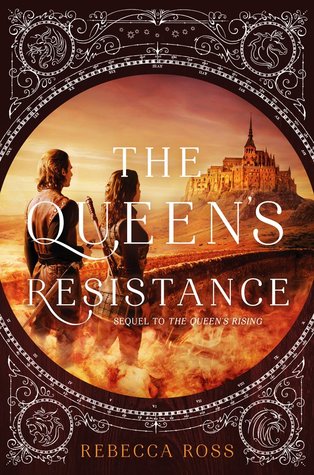 Title: The Queen's Resistance (The Queen's Rising #2)
Author: Rebecca Ross
Rating: ★★★☆☆ (3.5 stars)
Publisher: HarperTeen
Release Date: March , 5 2019
"Is it only blood that makes a House? Or is it beliefs? What holds people together more?"
---
This continues to be a wonderful fantasy series with The Queen's Resistance being a strong political fantasy ab0ut rebellions, family, and legacy. Picking up right where The Queen's Rising left off, Brienna and Cartier try to navigate Maevana politics and heal from old wound as the country is fundamentally changed.
---
Things I Liked 
This book had all the politics and power plays and I was so here for it. I love political fantasy books because they just add so much to the world. Seeing how the different alliances and rivalries influence the characters andee drive their actions was so cool.
I feel like the story introduced some great strong new characters. Especially Neeve and Ewa, both of which had plenty of screen time that never took away from the main characters.
There was such a natural progression to the story – reveals made sense and moved plot forward and nothing felt rushed. It made the story super easy to read and fall into.
There was so much action and fighting in the story. It was well placed and plotted, keeping me engaged and hooked.
---
Things I Didn't Like 
First chapter felt really long so it was a bit hard for me to get into the story and back into the world. But it picked up after chapter 1, and there was enough of a recap without feeling too much to help familiarize myself with the story.
My least favorite part of the story was probably the ending. It just felt a little rushed and unsatisfying. It was a nice conclusion and I got most of the answers I wanted, but 50 more pages wouldn't have hurt my feelings.
---
This truly is an underrated fantasy series that offers so much worldbuilding and shining character moments that it's impossible to not fall in love. The Queen's Resistance is a unique story filled with loveable romances and intricate worldbuilding that crafts a surprising story that sticks with you.
I received a copy of the book from HarperTeen via Edelweiss in exchange fro an honest review.