First Lines Fridays is a weekly feature for book lovers hosted by Wandering Words. What if instead of judging a book by its cover, its author or its prestige, we judged it by its opening lines?
Pick a book off your shelf (it could be your current read or on your TBR) and open to the first page
Copy the first few lines, but don't give anything else about the book away just yet – you need to hook the reader first
Finally… reveal the book!


---
Death, magic, and winter. A bitter cycle that Marzenya spins with crimson threads around pale fingers. She is constant; she is unrelenting; she is eternal. She can grant any spell to those she has blessed, her reach is the fabric of magic itself.
FIND OUT THE BOOK BELOW!
↓   ↓   ↓   ↓   ↓
↓   ↓   ↓   ↓   ↓
↓   ↓   ↓   ↓   ↓
↓   ↓   ↓   ↓   ↓
↓   ↓   ↓   ↓   ↓
---
Wicked Saints

by

Emily A. Duncan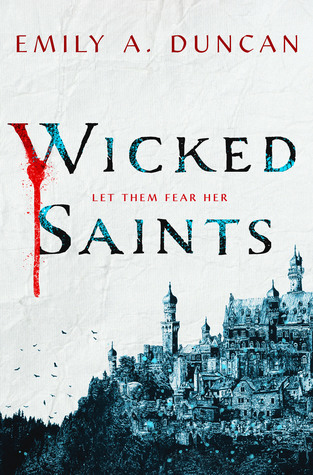 It's got me hooked so far, but it did take me about 50 pages to really settle into the world because you have a lot thrown at you in the beginning. But it never felt like an info-dump.
---
Goodreads Synopsis: A girl who can speak to gods must save her people without destroying herself.
A prince in danger must decide who to trust.
A boy with a monstrous secret waits in the wings.
Together, they must assassinate the king and stop the war.
In a centuries-long war where beauty and brutality meet, their three paths entwine in a shadowy world of spilled blood and mysterious saints, where a forbidden romance threatens to tip the scales between dark and light. Wicked Saints is the thrilling start to Emily A. Duncan's devastatingly Gothic Something Dark and Holy trilogy..
---
Have you excited for Wicked Saints? Share below!