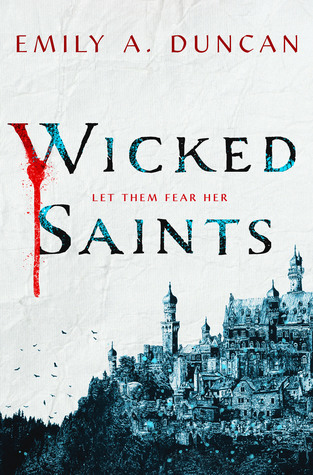 Title: Wicked Saints (Something Dark and Holy #1)
Author: Emily A. Duncan
Publisher: Wednesday Books
Release Date: April 2, 2019
"Are we so different, Nadya?" He lifted his hand, fingers tipped with long claws, and pressed his thumb against her lips. "We both long for freedom. For power. For a choice. We both want to see our kingdoms survive."
---
Synopsis
A girl who can speak to gods must save her people without destroying herself.
A prince in danger must decide who to trust.
A boy with a monstrous secret waits in the wings.
Together, they must assassinate the king and stop the war.
In a centuries-long war where beauty and brutality meet, their three paths entwine in a shadowy world of spilled blood and mysterious saints, where a forbidden romance threatens to tip the scales between dark and light. Wicked Saints is the thrilling start to Emily A. Duncan's devastatingly Gothic Something Dark and Holy trilogy..
---
Review
The ending of this story left me so excited for more. The ending is a maybe a weird place to start a review, but it really was was so great that I just want to talk about it – and all the other things I enjoyed. Anytime I can get a heavy political fantasy and a cool magic system based on gods and gods-blessed powers, I'm pretty much guaranteed to check the story out. And I have to say Wicked Saints combines all these and more to have a fast-paced, character driven story that never sacrifices plot.
I really loved the worldbuilding done in the story. The duelling magic systems of Kalyazin and Tranavia was really interesting and I loved seeing how the different cultures utilized magic different – and the complex ties to religion and belief! And the Vultures were mildly terrifying and a power unlike anything else in the world. They kept the story creepy and an extra  line of tension running though all the court drama. I thought all of the central characters were unique and well-realized, creating a full world with differing views and motives. I thought Nadya was great from the first page, but I really great to like Serafin and I'm very excited to see where his story goes. I kinda have the opposite opinion on Malachiasz, who I liked to start with, and cared about less as the story went on. I was also desperately craving a map for the story, and I can't wait to see if there will be one (if assuming yes) in the finished copies.
The Wicked Saints was an action-packed political fantasy with heavy influences from Eastern European countries. The unforgiving atmosphere and the alluring writing  are a match made for each other. This is such a strong introduction to this world and I can't wait to see what happens next. 
---
EMILY A. DUNCAN works as a youth services librarian. She received a Master's degree in library science from Kent State University, which mostly taught her how to find obscure Slavic folklore texts through interlibrary loan systems. When not reading or writing, she enjoys playing copious amounts of video games and dungeons and dragons. Wicked Saints is her first book. She lives in Ohio.
Website | Twitter | Instagram | Tumblr

---
Make sure you pre-order your copy today! But don't just take my word for it, here's some praise from some amazing authors.
"Dark, bloody, and monstrously romantic. This is the villain love interest that we've all been waiting for." – Margaret Rogerson, New York Times bestselling author of An Enchantment of Ravens 
"Prepare for a snow frosted, blood drenched fairy tale where the monsters steal your heart and love ends up being the nightmare. Utterly absorbing." – Roshani Chokshi, New York Times bestselling author of The Star-Touched Queen 

"Full of blood and monsters and magic—this book destroyed me and I adored it. Emily is a wicked storyteller, she's not afraid to hurt her characters or her readers. If you've ever fallen in love with a villain you will fall hard for this book." – Stephanie Garber, New York Times bestselling author of Caraval
---
And something very helpful before you go, a pronunciation guide!
---
Are you excited for WICKED SAINTS? Share your thoughts below!