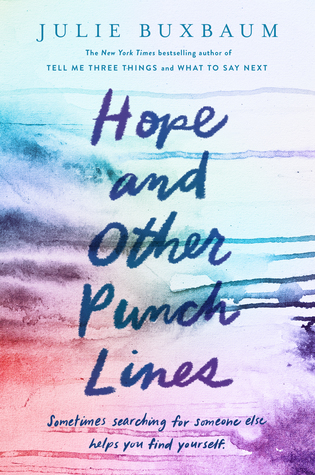 Title: Hope and Other Punchlines
Author:Julie Buxbaum
Publisher: Delacorte Press
Release Date: May 7, 2019
IT's a myth, this concept of a before and an after. Every time I see a perfect blue sky, want to know what I really think? I think there are only afters and after thats."
---
Synopsis
Sometimes looking to the past helps you find your future.
Abbi Hope Goldstein is like every other teenager, with a few smallish exceptions: her famous alter ego, Baby Hope, is the subject of internet memes, she has asthma, and sometimes people spontaneously burst into tears when they recognize her. Abbi has lived almost her entire life in the shadow of the terrorist attacks of September 11. On that fateful day, she was captured in what became an iconic photograph: in the picture, Abbi (aka "Baby Hope") wears a birthday crown and grasps a red balloon; just behind her, the South Tower of the World Trade Center is collapsing.
Now, fifteen years later, Abbi is desperate for anonymity and decides to spend the summer before her seventeenth birthday incognito as a counselor at Knights Day Camp two towns away. She's psyched for eight weeks in the company of four-year-olds, none of whom have ever heard of Baby Hope.
Too bad Noah Stern, whose own world was irrevocably shattered on that terrible day, has a similar summer plan. Noah believes his meeting Baby Hope is fate. Abbi is sure it's a disaster. Soon, though, the two team up to ask difficult questions about the history behind the Baby Hope photo. But is either of them ready to hear the answers
---
Review
This story kinda snuck up on me. There was good character moments and surprisingly a lot of humorous dialogue, but I didn't really connect with it for a large part of the story. But the last 50 pages really elevated the story. I felt the emotional weight and really connected with the characters. There was a lot of happy resolutions (a few sad ones too), but if anyone deserved a bit of happy in their lives it's Abbi Goldstein who feels the weight of a legacy forced upon her on her sholders everyday. I LOVED al lthe family dynamics – with Abbi's family and with Noah's. Noah and Jack's friendship was truly amazing, and I thought the romance was cute. This story really has so much going for it – it's a wonderful exploration of grief, guilt, and survival all wrapped up in a single, inspiring picture.
I received a copy of the book from the publisher in exchange for an honest review
---
About the Author
Please check out my two novels, THE OPPOSITE OF LOVE and AFTER YOU, both now out in paperback. My first YA novel, TELL ME THREE THINGS, debuts April 2016.
Please check out my website www.juliebuxbaum.com for more information about my books.
Or to follow my recent shenanigans, please check out my blog, JULIE HAS WRITER'S BLOG, at www.juliebuxbaum.com/blog/
One of my favorite things about being a novelist is the opportunity to talk to reading groups. If you are part of a reading group and would like to set up a conference call, or maybe even a meeting in person, please check out the reading group form and the reading group guide on my website.
Website | Twitter | Facebook | Instagram | Goodreads
---
Follow the Tour
Tour Schedule
Week One
5/1/2019- Dani Reviews Things– Review
5/2/2019- Lone Tree Reviews– Review
5/3/2019- Lifestyle Of Me– Review
 Week Two
5/6/2019- Jena Brown Writes– Review
5/7/2019- Feed Your Fiction Addiction– Review
5/8/2019- Ex Libris– Review
5/9/2019- Here's to Happy Endings– Review
5/10/2019- Struck by Stories– Review
 Week Three
5/13/2019- Belle's Archive– Review
5/14/2019- BookHounds YA– Review
5/15/2019- Life of a Literary Nerd– Review
5/16/2019- Savings in Seconds– Review
5/17/2019- Resch Reads & Reviews– Review

Week Four
5/20/2019- A Bookish Escape– Review
5/21/2019- Book-Keeping– Review
5/22/2019- Pacific Northwest Bookworm– Review
5/23/2019- The Book Dutchesses– Review
5/24/2019- Popthebutterfly Reads– Review
Week Five
5/27/2019- Down the Rabbit Hole– Review
5/28/2019- Do You Dog-ear?- Review
5/29/2019- Two points of interest– Review
5/30/2019- We Live and Breathe Books– Review
5/31/2019- The Clever Reader– Review
---
Giveaweay
Click HERE to enter the Giveaway
3 winners will receive a finished copy of HOPE AND OTHER PUNCHLINES 

US Only.
Find it:  Goodreads, Amazon, Kindle, Audible, B&N, iBooks, Kobo, TBD