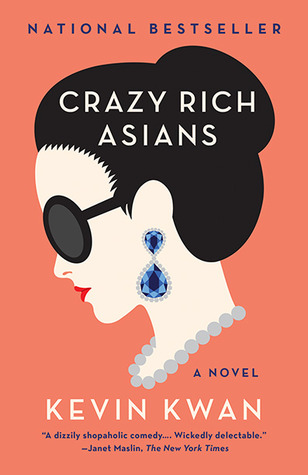 Title: Crazy Rich Asians
Author: Kevin Kwan
Rating: ★★★★★
Publisher: Anchor
Release Date: May 20, 2014
"Remember, every treasure comes with a price."
---
It's so great to just have fun reading. When you find that book that just reminds you of getting lost in a story and being enamored by characters, it's special. And I have that starry-eyed look in my when I think about how much fun I had with this book. Crazy Rich Asians follows Rachel Chu, her boyfriend Nick Young, and his family as they travel to Singapore for the summer and Rachel learns some unexpected things about Nick's world and begins to wonder if she'll ever fit in.
---
Things I Liked 
So I really loved getting so many different POVs throughout the story. It helped me become so invested because I got to know more than just Rachel and Nick, but their families as well. It made the world feel full and gave so many characters to fall in love with. And I LOVED all the hectic and crazy family dynamics.
Even though there wasn't very many flashbacks in the story, I thought they were used very effectively and loved the scenes. Particularly the opening scene & Young Nick/Colin. It added history and character depth.
I thought all of the romances in the story were great! And there were all unique to the couples, they didn't feel like carbon cutouts layered over different characters that didn't make sense.
I liked most of the characters in the story for me, which is always a win. While I did love Rachel, Peik Lin, and Nicholas I have to say that Astrid was probably my favorite. And Charlie too – I can't wait to see more of all of them.
---
Things I Didn't Like 
You know how I said I liked most of the characters, well not Eddie. He was the worst – and I know he was supposed to be. But he just annoyed me to know end and I thought he was such a shitty person.
I know this book is setting up a whole series, but parts of the ending did feel rushed to me. And we're setting up new storylines that don't have satisfactory payoff in this book. I just wanted more here – but thankfully I still have 2 books to look forward too. And I do feel like for some contemporary series, binge reading them as part instead of seperate books can feel better.
---
What can I say, I love fun and entertaining books and this one checked all my boxes – well developed characters, dynamic family relationships, and addicting romances. Crazy Rich Asians was such a unique look at love, wealth, and family and I can't wait to continue with the series.
---
HAve you read CRAZY RICH ASIANS? Or seen the movies? Share your thougths below!