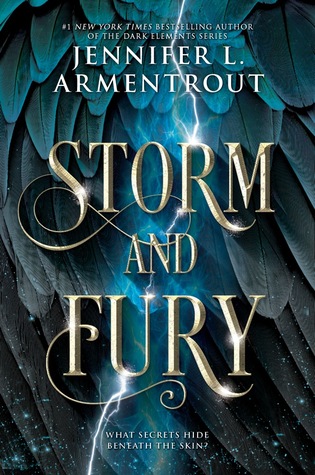 Title: Storm and Fury ( The Harbinger #1)
Author: Jennifer L. Armentrout
Rating: ★★★☆☆ (3.5 Stars)
Publisher: Inkyard Press
Release Date: June 11, 2019
"Greed for power knows no discrimination, no boundaries."
---
Storm and Fury was an enjoyable return to the world of Wardens and Demons that infused witty dialogue with genuine moments and steamy flirting to create a well balanced and engaging story filled with action and adventure. We follow Trinity Marrow as she navigates the dangerous supernatural world around her and tries to keep her identity a secret from the demons threatening her home as she grows closer to a visiting Warden, Zayne, who has secrets of his own.
---
Things I Liked 
Misha and Trinity's bond is so well-established and I could feel their history and connection. It made the events of the story all the more meaningful.
As expected there was excellent banter and flirting all around. Jennifer L. Armentour continues to create dialogue that is both fun and honest for the characters.
There's also a ton of fighting and action throughout the story. There were well paced and placed through the story so there was never any lag time.
So many wonderful scenes with other beloved characters. I was thrilled to see Roth, Layla, Cayman, and some of the other Wardens show up in the story.
---
Things I Didn't Like 
I really didn't need to have a guy getting all handsy in thefirst chapter. It just didn't set the tone for the story the way I wanted it too. It was something I had to get over, not something that made the story impactful.
The ending felt a little rushed and unsatisfying. The reveal and resolution all happened fairly quickly with little time to reflect. It just wasn't my favorite.
---
Storm and Fury was a fun story in a fun world that had me hooked. I really liked Trinity and Zayne and I look forward to more in their story. While the beginning and the ending of the story was a bit weaker than I would have preferred, it was an enjoyable experience. If you're a fan of Paranormal Romance and Urban fantasy, I don't think you'll be disappointed.
I received a copy of the book from Inkyard Press via Netgalley in exchange for an honest review.