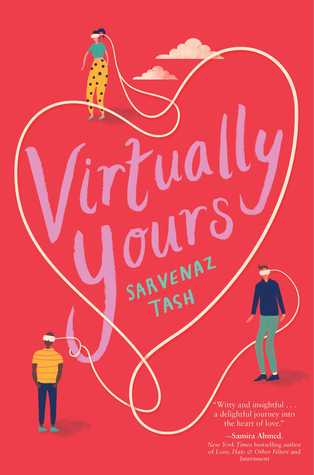 Title: Virtually Yours
Author: Sarvenaz Tash
Rating: ★★★★☆
Publisher: Simon & Schuster
Release Date: June 4, 2019
The older i got, the more I realized I chose optimism. I chose it despite the odds stacked against it, despite living in a world whose currency was much more deeply rooted in cynicism and irony. It wasn't because I was weak and naive; it was because I was strong enough in my convicitions that the world could be all right anyway."
---
I honestly fell more in love with this story and with Miriam the more I read it. It was constatnly surprising me and just brought me so much happiness!
Virtually Yours follows college freshman Miriam Vakilian as she enters the dating world through HEAVR, a virtual reality dating site that guarantees a happily ever after. But when Miriam is matched with her recent ex, things become a lot more complicated in Miriam's love life.
Things I Liked 
Miriam is surprisingly likable! I thought I would have a lot more negative feelings toward her because of the whole deceptive dating situation. But I loved that she was so self-aware through the whole situation. She really seemed like a person – flaws and all – and I kinda loved her for it.
There was some truly great friendships on display throughout the story – with Miriam's roommate and co-worker each having developed and individual relationships. And I really loved seeing Miriam's family and her relationship with her siblings. They also just felt really real. And you know I'm always a sucker for a sibling relationship.
I thought Miriam's class about the American Welfare Systemsounds so cool and definitely like a class I would have taken in college. And I really loved seeing Miriam's growth outside of her romantic relationships.
I thought that all the characters handled the drama and missteps with maturity. Yes there was initial emotional outbursts (all rightfully earned) but reactions were true to characters, and honest for people with history who truly care about one another. It was just very well done in my opinion, when it could easily have brought my enjoyment down.
Things I Didn't Like 
I think the premise of the story is inherently a little bit icky, but that's kinda the point. The anonymity of online dating is brought to the extreme, with avatar stand-ins and fake names in lieu of real information. And lying and deceptiveness is also a pet peeve of mine in relationships, but I thought it was handled as good as it could have been, given the situation.
The name HEAVR is ridiculous and I laughed every time it was brought up. But other than that, I had a truly wonderful time with Virtually Yours. I thought the characters were real and well defined, with relationship I wanted to follow. Once I got about 75 pages in, I couldn't put the story down. And I don't think you'll be able to either.
I received a copy of the book from the publisher via Netgalley in exchange for an honest review.