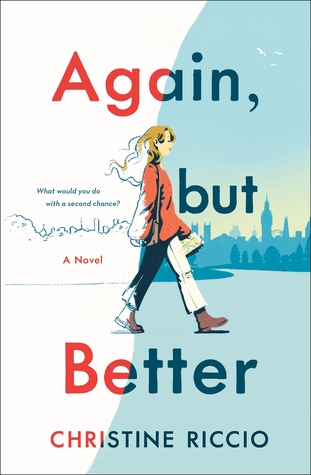 Title: Again, but Better
Author: Christine Riccio
Rating: ★★☆☆☆
Publisher: Wednesday Books
Release Date: May 7, 2019
"If you could go back and do London all over again, knowing everything you know now, would you do it?"
---
If I had to describe this book in five words they'd be: Anna and the French Kiss, because if you liked one, you'll like the other. And if you had issues with one, you'll likely have similar issues with the other. Unfortunately, I fall into the second camp with this one and I didn't love the book as much as I had hoped. Again, But Better is a coming of age story about finding your path in unlikely places following reluctant pre-med student Shane as she is studying abroad in London to gain a "true college experience." Regrets, romance, and drama ensues.
I do think I would have enjoyed this story a lot more if I read it 5-7 years ago (around the first time I read – and enjoyed- Anna and the French Kiss). But I just didn't connect with it. You can totally hear Christine's voice shining through – a good or a bad thing depending on your preference, I was fine with it. Though there are a TON of pop culture references that can be a little repetitive. But the more I read the story, the more Shane bugged me. At first, I was like "Hello fellow introvert, I will connect with you through shared perspectives", but I really didn't at all. She seemed was more awkward and filterless than introverted. And it was a lot to be in her loud and anxious personality for long periods of time – part of why this took me a month to read (unheard of for me). And her family was absolutely horrid! Especially her father, who came off as verbally abusive in the story.
But probably my biggest gripe with the story is Shane's relationship with Pilot. They connect on the trip pretty quickly and Shane is definitely catching feelings (which Pilot seems to reciprocate)- but Pilot has a girlfriend. He's shown to not be very serious about her, but they're still in a relationship. Cheating (and emotional cheating) is one of my biggest pet peeves in books – it makes the characters unlikeable and taints any prospects of a relationship. And I really didn't like how hung up Shane was about everything years later, I just didn't buy it.
I'm going to be completely honest, I knew where the book was headed for the ending – and I wasn't thrilled by it, so I skimmed the last 50 pages or so to make sure I was right (I was), so I could be finished with the story. It's not a bad story by any means, it's just not right for my personal taste. This wasn't a quick read for me, but you could totally knock it out in a day, easy. I'm sure many people with love and connect with Shane, and be enamored by the first love giddy feelings, but it just wasn't for me and that's okay.