Another mediocre month for mini reviews – not bad, but it could have been better. I feel like lately my mini-reviews are reserved for DNFs and books I didn't really like. Here are my mini reviews for this October. 
---
Rating: ★★☆☆☆
Publisher: Katherine Tegen Books
Release Date: October 2, 2018
"Beware of the woods and the dark, dank deep
He'll follow you home and won't let you sleep."
DNF @ 30%
I am so heartbroken that I can't finish this story, but I am so utterly bored and uninterested that if I continue I know the rating will only drop further. Sawkill Girls was supposed to be my creepy atmospheric favorite for this fall season, but everything fell flat.
While reading about The Rock and the island's personified spirit was my everything, I did not care about anything else in the story. Marion's introduction to Sawkill was so ridiculous that I could take nothing else seriously. It really set a bad tone for the story, more like a parody than a haunting tale. The story moves so slow, with small reveals that seem to have no implications for the story beyond shock factor. Val is unlikeable, Marion is irrelevant, and Zoey wins by default, I guess – and I did like her friendship with Grayson, her ex-boyfriend.
The best way I can describe the story is nonsensical and my reaction to it as apathetic. The ending might truly be amazing, but for me it's not worth it to find out. I know many others have enjoyed this so don't let my opinions stop you from picking it up, but it is just not for me.
I received a copy of the book from Katherine Tegen Books via Edelweiss in exchange for an honest review
---
Always Never Yours by Emily Wibberley & Austin Siegemund-Broka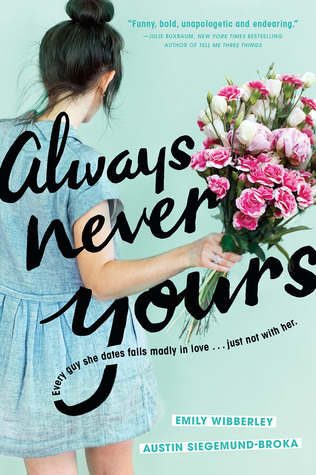 Rating: ★★★☆☆
Publisher: Speak
Release Date: May 22, 2018
"To hope one day I'll be the one chosen and not just the girl before."
This was a cute Romeo & Juliet inspired story that is unadashidly dramatic and flirty, which were two of my favorite things about the story. I loved that Megan's radiant positive energy. She was such a happy person and easy to cheer for. But I didn't really care for any of the other characters, and none of the romances really hooked me either. There were just so many little things that bugged me, or annoyed me, that I couldn't love this story even though I had a good time reading it.
---
This was really one of the best readig months I've had in ages, so these books were really the outliers and while I didn't really love them, I know others will. But I'm super excited about the books I'm reading and the ones on my immediate TBR.