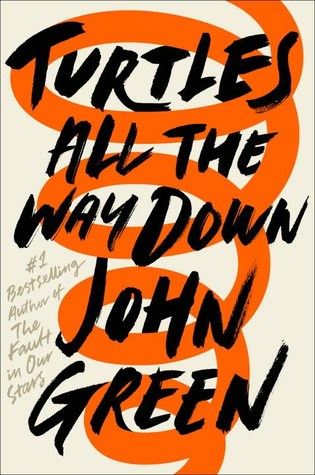 Title: Turtles All the Way Down
Author: John Green
Rating: ★★★★☆
Release Date: October 10, 2017
"Anybody can look at you. It's quite rare to find someone who sees the same world as you."
---
It feels like it's been forever since I read a John Green book, so I was extremely excited with the surprise announcement of Turtles All the Way Down earlier this year. I have to say, this book did not disappoint. I was enraptured by the characters and found the writing to be immersive and reflective. Turtles All the Way Down is a beautifully rendered look at Aza Holmes' struggle with OCD and her journey to find herself.
---
Things I Liked 
I really love the exploration of fate, predetermination, agency and choice via Aza's OCD and anxiety. We get to see her really contemplate who she is as a person, and what role she actually plays either as an orchestrator or pawn of her own thoughts.
Aza's intrusive thoughts and "spirals" were very well realized. It was so easy to see her fears manifested and helped me connect with Aza and her struggles. I also liked that we got to see Aza in therapy – talking about her fears and what she thinks is working and not working.
Davis Pickett is a gem of a character whom I loved with all of my heart. I like that was upfront and honest with Aza about his fears, about their relationship, about who they are. It was nice to see. I also loved all of his blogs and his poetry was beautiful. It was easy to connect with him – seeing his thought and emotional state via his writing.
John Green's writing is esoteric and atmospheric and makes the impossible seem not only possible, but plausible and achievable. But all this whimsy and metaphor is grounded in human emotion and characters who have struggles, personality, depth, and growth. I really become invested in the characters and their stories, which is my favorite thing about reading.
SO MANY QUOTES:
"But I was beginning to learn that your life is a story told about you, not one that you tell." 

---

"But the sky isn't one thing. The sky is everything. And last night, it was enough."


---

"When observation fails to align with a truth, what do you trust – your senses or your truth?"


---

"I'm a story they're telling. I am circumstances."


---

"I wonder is I fucked it up. But if I hadn't done it, I'd have wondered something else. Life is a series of choices between wonders."
---
Things I Didn't Like 
All the Star Wars stuff was a little too much for me. Don't get me wrong, I like Star Wars as much as the next person, but all of the references felt like a little too much and drew me out of the story.
I'm not Daisy's biggest fan – and I don't think she's that great of a friend. She wasn't very understanding of Aza's illness and only saw her as a privileged person, whose financial status could ease all burdens. And she definitely became an absentee friend when she got a boyfriend – even though she explicitly said she wouldn't.
---
This was a really enjoyable book that was honestly hard to read at times. Aza's struggles are intense and heartbreaking but I loved seeing her journey. Turtles All the Way Down is a captivating story of resilience and finding strength in yourself.
Trigger warning for medical anxiety
Have you read TURTLES ALL THE WAY DOWN? What did you think? What's your favorite John Green book? Share below.