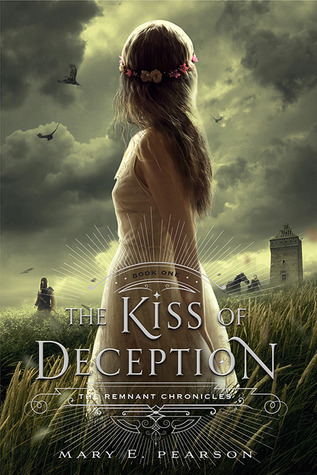 Title: The Kiss of Deception (The Remnant Chronicles #1)
Author: Mary E. Pearson
Rating: ★★★★★
Publisher: Henry Holt
Release Date: July 8, 2014
"But remember, child, we may all have our own story and destiny, and sometimes our seemingly bad fortune, but we're all part of a greater story too. One that transcends the soil, the wind, time… even our own tears. Greater stories will have their way."
---
Sometimes you forget just how much you love fantasy, then you read a really great book and it puts you in the most fantasy mood and that suddenly becomes all you want to read. That was me with The Kiss of Deception. Normally, when I don't know what to read, I gravitate to contemporary or urban fantasy – something with less complex worldbuilding that I can just fall into. But The Kiss of Deception was just so compulsively readable that I could not put it down.
---
Things I Liked 
So I fell in love with the writing from page 1. There was this almost ethereal quality to parts of the story that really elevated it and made the fantasy world standout, almost like a children's story book. It's mesmerising in the simplicity and magical feeling. I was just so easy to read – not overly descriptive or complex, but rich and detailed enough to keep me hooked. Big fan, and I can't wait to see more of the world explored in book 2.
Lia was a fantastic character and I loved her flaws and all. From the beginning of the story, she allows herself to be selfish and it was so freeing and insipring. Lia doesn't want to simply be a political pawn for the kingdom, she wants to make decisions for herself – so she not only runs away, but takes secret documents with her. I just loved it. And while she is selfish, she's incredibly compassionate and loyal too. Overall a well rounded character who is easy to route for.
I thought the relationships in this story were done fantastically, especially as a set up for the entire series. Lia and Pauline's friendship is established early, and I cherished it so much. There's such love and dedication between each other, it melted my heart. I liked seeing Lia's interactions with both the Assassin and the Prince slowly develop and discovering who-was-who. I even liked seeing the small glimpses of Lai's family and the importance and influence they had on her.
I'm not a love triangle hater, so I had sorta high hopes for this one and I have to say I really liked it. Not knowing which character was the Assassin sent to kill Lia and which was the Prince she jilted at the altar was super unique and fun to try and figure out. When reading from the different perspectives, I had an immediate favorite between the Assassin and the Prince, it was fun trying to see if my preferences aligned with my favortie between Rafe and Kaden as well. But it never felt truly triangle-y to me, I thought there was a clear direction from the beginning, and while there might be more angst in book 2 (always here for it), I'm happy with how the romance went down in book 1.
---
Things I Didn't Like 
I think the one lacking feature of the book for me was the worldbuilding. I feel like it took too long to establish the history of The First Daughters, The Remnants, the Gifts, and the history between the different countries. And I'm honestly still kinda unclear about what some of these terms are and their importance. I did like establishing some of the cultures and beliefs of Morrighan and Venda, but I'm looking forward to more in book 2.
I think the biggest compliment I can pay this book is that it made me want to read. And given how I was feeling the first week of 2019, I'm glad I found something to light that spark. The Kiss of Deception is an engrossing fantasy story that is built on fantastic characters , relationships, and political intrigue. I can't wait to see the world expand and develop further in book 2. And I'm kinda kicking myself for putting this off so long, but I think I've found a new addition to favorite fantasy series and I couldn't be more excited.
"Ascente cha ores ri vé breazza," she leaned close, pressing her cheek to mine and whisered, "Zsu viktara." … "Turn you ear to the wind," she interpretted. "Stand strong."
Have you read THE KISS OF DECPTION? Did you love it too? What's the most unique love triangle you've ever read? Share below!