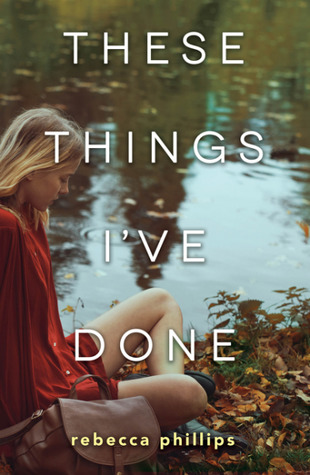 Title: These Things I've Done
Author: Rebecca Phillips
Rating:★★★★★
Release Date: August 1, 2017
"Mistakes happen, we can hate ourselves for them all we want, but it doesn't help anything. It just ends up hurting us too."
---
I wanted an emotional read, and I got it! These Things I've Done is a beautifully powerful story of forgiveness- forgiveness for yourself and for things you can't undo. Wracked with the guilt she feels after her best friend Aubrey's death, Dara Shepard returns home to confront her memories and her remorse. But, Dara begins spending time with Ethan, Aubrey's brother, and starts to feel guilty for an entirely different reason. As Ethan and Dara grow closer, Dara worries she'd betraying her friend as she finally begins to heal.
---
Things I Liked 
This is such an emotionally resonant novel. You feel Dara's overwhelming melancholy at the beginning of the story. She's still coming to terms with her guilt and pain. There's a sorrowful resignation that really breaks your heart.
The flashbacks to sophomore year were really perfect. They allowed us to see Dara as a fearless girl unable to turn down a dare, so it's all the more devastating where she is now. It also helped establish Dara and Aubrey's relationship. They are the best of best friends, supportive, caring, goofy. You become invested in their relationship so you care about Dara's emotional journey.
Ethan McCrae is one of the nicest people ever. He's so kind-hearted and just this effervescent ray of light that you want him to be happy. And his relationship with Dara develops perfectly – they talk to each other. It was so nice to see them be so open, and even when they're scared or it's hard, they support each other.
I really liked Dara's family. After Dara comes back the dynamic is off, but they only want what's best for her. She has some fantastic moments with her brother, Tobias, in the second half that I loved, and a moving conversation with her dad that made me a little misty eyed.
---
Things I Didn't Like 
I would have liked to see how Dara dealt with the immediate aftermath of Aubrey's death. It is referenced a couple times, but I would have liked to be with her when she was going through those chaotic and confusing emotions.
---
Wanting more from the story isn't that strong of a negative, but it's all I got. This story was so easy to become invested in – Dara's emotions are so tangible that it really feels like you're on this journey with her. This was a fantastic story of guilt, forgiveness, and acceptance that tugs at your heartstrings.
I received a copy of the book from HarperTeen via Edelweiss in exchange for an honest review.