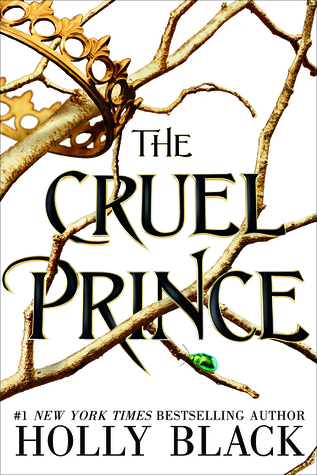 Title: The Cruel Prince (The Folk of the Air)
Author: Holly Black
Publisher: Little, Brown Books for Young Readers
Release Date: January 2, 2018
I've seen so many fellow bloggers talking about this book lately and I thought I should share in the excitement for this FAERIE fantasy story. because who doesn't love faeries?
---
Synopsis
Jude was seven years old when her parents were murdered and she and her two sisters were stolen away to live in the treacherous High Court of Faerie. Ten years later, Jude wants nothing more than to belong there, despite her mortality. But many of the fey despise humans. Especially Prince Cardan, the youngest and wickedest son of the High King.
To win a place at the Court, she must defy him–and face the consequences.
In doing so, she becomes embroiled in palace intrigues and deceptions, discovering her own capacity for bloodshed. But as civil war threatens to drown the Courts of Faerie in violence, Jude will need to risk her life in a dangerous alliance to save her sisters, and Faerie itself.
---
Why I'm Excited
FAERIES and court politics! I am a complete sucker for political dynamics in fantasy stories. I just LOVE THEM SO MUCH. It's always intense and makes the worldbuilding seem even more full and lush.
I mean, that really all I need to be excited about, but I'm super excited for all the dark themes and twists! And an unlikeable MC who embraces her inner bloodlust. Give me all the dark dark atmospheric stories please.
---
About the Author
Holly Black is the author of bestselling contemporary fantasy books for kids and teens. Some of her titles include The Spiderwick Chronicles (with Tony DiTerlizzi), The Modern Faerie Tale series, the Curse Workers series, Doll Bones, The Coldest Girl in Coldtown, the Magisterium series (with Cassandra Clare) and The Darkest Part of the Forest. She has been a a finalist for an Eisner Award, and the recipient of the Andre Norton Award, the Mythopoeic Award and a Newbery Honor. She currently lives in New England with her husband and son in a house with a secret door.
Website | Twitter | Goodreads | Tumblr | Pinterest | Facebook
---
PreOrder Links
Autographed copy | Amazon | B&N | Kobo |  Book Depository
Are you excited for THE CRUEL PRINCE? Have you already read it, what did you think? What's your favorite faerie book?
Share below!