Today's the first day of winter so that means it's time to recommend some books that are perfect for this time of year! I think I have 2 moods reading wise this time of year: holiday contemporaries or high fantasy. I just think both are perfect from December – February. So here are 5 books perfect for winter time!
---
Catch a Falling Star by Kim Culbertson // Nothing ever happens in Little, CA. Which is just the way Carter Moon likes it. But when Hollywood arrives to film a movie starring former child star turned PR mess Adam Jakes, everything changes. Carter's town becomes a giant glittery set and, much to her annoyance, everyone is starry-eyed for Adam. Carter seems to be the only girl not falling all over herself to get a glimpse of him. Which apparently makes her perfect for the secret offer of a lifetime: playing the role of Adam's girlfriend while he's in town, to improve his public image, in exchange for a hefty paycheck. Her family really needs the money and so Carters agrees. But it turns out Adam isn't at all who she thought he was. As they grow closer, their relationship walks a blurry line between what's real and what's fake, and Carter must open her eyes to the scariest of unexplored worlds – her future. Can Carter figure out what she wants out of life AND get the guy? Or are there no Hollywood endings in real life?
I love stories with movie-making elements, and the Christmas retelling film in the background makes this perfect for the holiday season!
---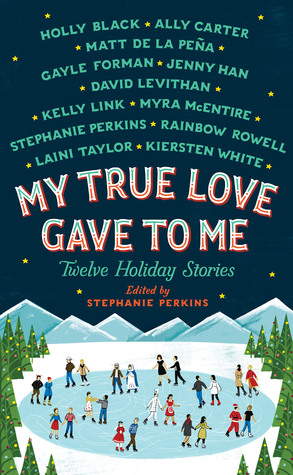 My True Love Gave to Me by Stephanie Perkins et al // If you love holiday stories, holiday movies, made-for-TV-holiday specials, holiday episodes of your favorite sitcoms and, especially, if you love holiday anthologies, you're going to fall in love with My True Love Gave To Me: Twelve Holiday Stories by twelve bestselling young adult writers, edited by international bestselling author Stephanie Perkins. Whether you enjoy celebrating Christmas or Hanukkah, Winter Solstice or New Year's there's something here for everyone. So curl up by the fireplace and get cozy. You have twelve reasons this season to stay indoors and fall in love.
I actually read this in January last year and it was so lovely. It had all the winter feel-goodness I craved!
---
Girls Made of Snow and Glass by Melissa Bashardoust // At sixteen, Mina's mother is dead, her magician father is vicious, and her silent heart has never beat with love for anyone—has never beat at all, in fact, but she'd always thought that fact normal. She never guessed that her father cut out her heart and replaced it with one of glass. When she moves to Whitespring Castle and sees its king for the first time, Mina forms a plan: win the king's heart with her beauty, become queen, and finally know love. The only catch is that she'll have to become a stepmother.
Fifteen-year-old Lynet looks just like her late mother, and one day she discovers why: a magician created her out of snow in the dead queen's image, at her father's order. But despite being the dead queen made flesh, Lynet would rather be like her fierce and regal stepmother, Mina. She gets her wish when her father makes Lynet queen of the southern territories, displacing Mina. Now Mina is starting to look at Lynet with something like hatred, and Lynet must decide what to do—and who to be—to win back the only mother she's ever known…or else defeat her once and for all.
An epic fantasy retelling of Snow White that surpassed my every expectation. The dynamic relationship between Lynet and Mina was a stunning and captivating.
---
The Crown's Game by Evelyn Skye // Vika Andreyeva can summon the snow and turn ash into gold. Nikolai Karimov can see through walls and conjure bridges out of thin air. They are enchanters—the only two in Russia—and with the Ottoman Empire and the Kazakhs threatening, the tsar needs a powerful enchanter by his side.
And so he initiates the Crown's Game, an ancient duel of magical skill—the greatest test an enchanter will ever know. The victor becomes the Imperial Enchanter and the tsar's most respected adviser. The defeated is sentenced to death.
Raised on tiny Ovchinin Island her whole life, Vika is eager for the chance to show off her talent in the grand capital of Saint Petersburg. But can she kill another enchanter—even when his magic calls to her like nothing else ever has?
For Nikolai, an orphan, the Crown's Game is the chance of a lifetime. But his deadly opponent is a force to be reckoned with—beautiful, whip-smart, imaginative—and he can't stop thinking about her.
And when Pasha, Nikolai's best friend and heir to the throne, also starts to fall for the mysterious enchantress, Nikolai must defeat the girl they both love…or be killed himself.
As long-buried secrets emerge, threatening the future of the empire, it becomes dangerously clear—the Crown's Game is not one to lose.
A historical fantasy set in Russian, this book just feels like winter. And it was one of the first historical books that truly captivated me.
---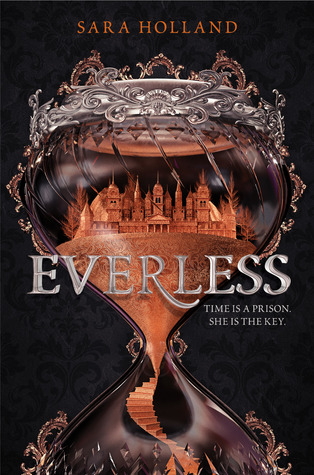 Everless by Sara Holland // In the kingdom of Sempera, time is currency—extracted from blood, bound to iron, and consumed to add time to one's own lifespan. The rich aristocracy, like the Gerlings, tax the poor to the hilt, extending their own lives by centuries.
No one resents the Gerlings more than Jules Ember. A decade ago, she and her father were servants at Everless, the Gerlings' palatial estate, until a fateful accident forced them to flee in the dead of night. When Jules discovers that her father is dying, she knows that she must return to Everless to earn more time for him before she loses him forever.
But going back to Everless brings more danger—and temptation—than Jules could have ever imagined. Soon she's caught in a tangle of violent secrets and finds her heart torn between two people she thought she'd never see again. Her decisions have the power to change her fate—and the fate of time itself.
The tone of this book is so fantastically winter it's insane. There's this desperation and eerie calmness that feels like a Winter storm.
---
What are your must read books for Winter? Have your read any of these? What did you think of them?
Share below!