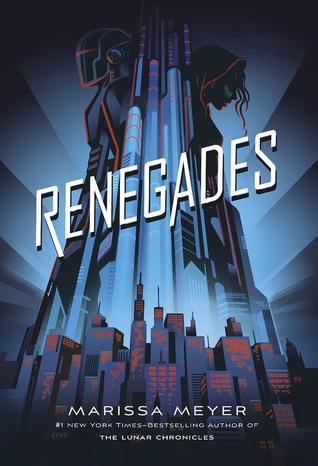 Title: Renegades (Renegades #1)
Author: Marissa Meyer
Rating: ★★★★☆ (4.5 Stars)
Release Date: November 7, 2017
"Heroes or villains, all prodigies were powerful. All prodigies were dangerous."
---
I was a little bit nervous going into this book because I had seen quite a few mixed reviews, but I'm happy to say that I really enjoyed it! Renegades follows two groups of prodigies, humans with extraordinary abilities, as they fight for control of the city of Gatlon. The Renegades are seen as superheroes, while the Anarchists are seen as villains, but Nova, a girl on a path of vengeance is determined to change that.
---
Things I Liked 
I really loved the different powers and abilities we get to see in the Prodigies. There are some standard abilities like elemental manipulation and telekinesis, but more unique abilities as well like the ability to change into a swarm of butterflies or to create anything from a sketch. The superhero element was a lot of fun!
There was some really good action and fight scenes in the story, as one would expect from a superhero book. We get to see powers displayed and clash. We also get to see some great teamwork.
I really loved the thread of morality and perspective that was woven throughout the story. We have characters questioning what it means to be a Visionary vs what it means to be a Villain. We see them look at who decides that and what actions influence that as well. I also liked getting to see Nova's perspective and gray morality. I really understood where she was coming from, and I liked that she has found a sort of middle ground that works for her.
I was sort torn on the prologue when it started, because I'm not the biggest fan of kid protagonists, hence when I don't really read Middle Grade, so I was a bit nervous. But I actually really love the backstory it established for Nova, and I thought it really helped me connect with her and understand her thoughts and beliefs.
I always love getting diverse representations in stories. I like that we get to see an LGBTQIA+ couple in Captain Chromium and The Dread Warden, we get to see adopted families, Nova and Adrian are people of color, and I liked that we got to see a character who uses a cane to walk (Oscar).
This quote
"There was potential for evil everywhere, and the only way to combat it was if more people chose goodness. If more people chose heroism.
Not laziness. Not apathy, Not indifference."
---
Things I Didn't Like 
The chapters felt a little long, especially in the beginning and kept me from really getting hooked until about a third of the way into the book. I also felt like some of the action scenes, again in the beginning of the story, felt a little drawn out. So overall, I felt like there were some minor pacing issues that made the beginning of the story weaker.
---
Renegades was a really fun book that has a lot of action, great character dynamics, and some thought-provoking questions about what it means to be a hero. I had a great time reading it and I can't wait to see what happens in the conclusion.
Have you read RENEGADES? What did you think? What's your favorite superhero movie or book? Share below!