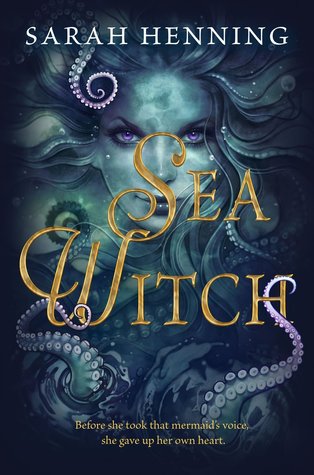 Title: Sea Witch
Author: Sarah Henning
Rating: ★★★☆☆ (3.5 Stars)
Publisher: Katherine Tegen Books
Release Date: July 31, 2018
"The sea is a fickle witch. She is just as likely to bestow a kiss as to steal the breath from your lips. Beautiful and cruel, and every glimmering wrinkle in between. Filling our bellies and our coffers when she is generous. Cooly watching as we don black and add tears to her waters when she is wicked. Only the tide follows her moods – giving and taking at the same salty rate. Still, she is more than our witch – she is our queen."
---
Who doesn't love villain origins stories? Seeing how our favorite villains became who they are today lets us know more about all the characters we love to hate (or secretly root for). Sea Witch follows Evie, deemed an outcast after the death of her best friend Anna 4 years ago. When a girl washes ashore with a remarkable resemblance to Anna, Evie is determined to help them both find their happily ever afters through any means, or magic, necessary. But magic and revenge don't mix and soon Evie finds that the price of her bargain might be too high.
---
Things I Liked 
One of my favorite parts of the story surprisingly was the flashbacks to four years ago. We see how Evie became so isolated after the loss of one of her best friends Anna. We see the guilt and pain that Evie and Nik are still trying to overcome after Anna's drowning. I felt like all the flashback scenes were so appropriately timed and created the perfect mood and transitions within the story.
Seeing Evie and Nik's strong and pure friendship was so great. I loved that they remained friends even after the tragedy of losing Anna and the strains on their relationship because of their different stations. I also really liked seeing Evie and Annamette's friendship develop through the entire story. It felt genuine and important to both Evie and the story.
This was just a great retelling/origin story for Ursula. I can see her point of view and sympathize with her. I love the legend that builds to create this feared monster and seeing her more than humble beginnings. I also liked how magic was weaved through the story. It added an appropriate amount of whimsy. It didn't feel like she became the notorious sea witch, but it was fate. It was always who she was meant to be and it became realized in this story.
---
Things I Didn't Like 
The romances in the story felt either already established, so I missed the build and seeing their chemistry develop, or cliche, almost to the point of me not caring about them as individuals in a relationship. It didn't really drag the story down at all, it was just something that didn't add to the story either.
---
Overall I actually really liked this story and the ending was poignant and left me with a bittersweet and almost peacefully feeling that felt so right for the story that it elevated to whole book. Sea Witch is an enjoyable retelling that highlights grief, loss, and the lengths one will go to to help a friend and the dangers of revenge.
I received a copy of the book from the publisher in exchange for an honest review.
Are you excited for SEA WITCH? What's your favorite villain origin story? Who's your favorite disney villain (Team Hades of Malefecent)? Share below!