WWW Wednesday is a meme hosted by 

Sam

@

TakingOnAWorldofWords

 and was formerly hosted by 

MizB

@ 

ADailyRhythm

 and revived here on Taking on a World of Words. Just answer the three question. It's open to anyone to participate, even without a blog you can comment on Sam's post with your own answer. It's a great way to share what you've been reading! All you have to do is answer three questions and share a link to your blog in the comments of Sam's blog.
 THE THREE W'S ARE:
What are you currently reading?
What did you recently finish reading?
What do you think you'll read next?
As always, click the book's title to go to the Goodreads page!
I know this is going up super late today but I was so busy at work that I didn't have time to make this until now, But better late(-ish) than never!
---
CURRENTLY READING
I'm doing a buddy read of Children of Blood and Bone, and while I'm only 150 pages in so far I am completely swept away by the story! Fresh Ink is off to a good stary so far – I've loved some stories and I've disliked some. I'm looking forward to finishing this because some of my favorite author have contributed! Love and First Sight was an impulse audiobook that I decided to checkout because I wanted something to listen to while I was at work super early this morning. I'm liking it so far, it's nothing special, but it's what I want right now.
---
Recently Finished

This was a fun origin story/retelling for the world's most notorious sea witch. I'm always looking for more mermaid stories to I lovevd seeing it here. The ending of hte story felt so perfect that it really elevated the whole book.
---
READING NEXT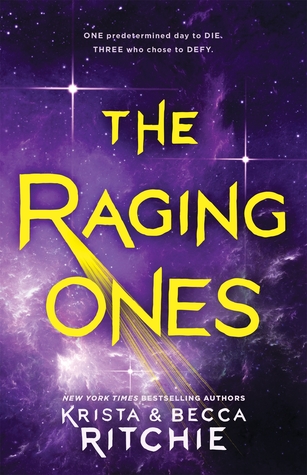 There are some seriously amazing anthologies coming out this year and Our Stories, Our Voices is one I have been so excited for for so long! I've wanted to read it since I fell in love with The Nowhere Girls by Amy Reed last year so I can't wait to read it! The Raging Ones sounds like a fun space sci-fi which I'm always on the look out for!
---
Have you read any of these books? Are they on your TBR? What are you reading right now? Share your thoughts below!