First Lines Fridays is a weekly feature for book lovers hosted by Wandering Words. What if instead of judging a book by its cover, its author or its prestige, we judged it by its opening lines?
Pick a book off your shelf (it could be your current read or on your TBR) and open to the first page
Copy the first few lines, but don't give anything else about the book away just yet – you need to hook the reader first
Finally… reveal the book!
---
IT'S A TRUTH UNIVERSALLY ACKNOWELDGED THAT WHEN  RICH PEOPLE MOVE INTO THE HOOD, WHERE IT'S A LITTLE BIT BROKEN AND A LITTLE BIT FORGOTTEN, THE FIRST THING THEY WANT TO DO IS CLEAN IT UP."
↓   ↓   ↓   ↓   ↓
↓   ↓   ↓   ↓   ↓
↓   ↓   ↓   ↓   ↓
↓   ↓   ↓   ↓   ↓
↓   ↓   ↓   ↓   ↓
---
Pride

by

Ibi Zoboi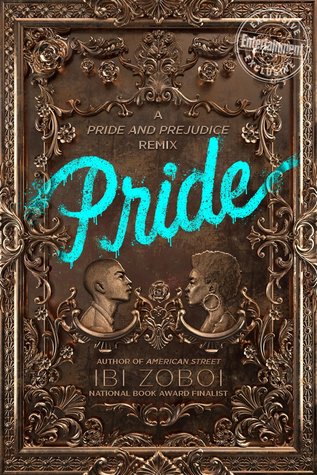 I know I usually do my current read for First Line Friday posts, and I've already finished PRIDE, but the first lines are so perfect I couldn't help it. And I really loved the book.
Goodreads Synopsis: Zuri Benitez has pride. Brooklyn pride, family pride, and pride in her Afro-Latino roots. But pride might not be enough to save her rapidly gentrifying neighborhood from becoming unrecognizable.
When the wealthy Darcy family moves in across the street, Zuri wants nothing to do with their two teenage sons, even as her older sister, Janae, starts to fall for the charming Ainsley. She especially can't stand the judgmental and arrogant Darius. Yet as Zuri and Darius are forced to find common ground, their initial dislike shifts into an unexpected understanding.
But with four wild sisters pulling her in different directions, cute boy Warren vying for her attention, and college applications hovering on the horizon, Zuri fights to find her place in Bushwick's changing landscape, or lose it all.
---
Are you excited for PRIDE? Is it on your TBR? What's your favorite PRIDE & PREJUDICE  retelling? Share below!