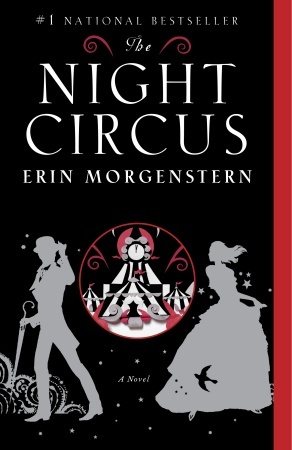 Title: The Night Circus
Author: Erin Morgenstern
Rating: ★★★★☆ (4.5 Stars)
Publisher: Anchor
Release Date: July 3, 2012
"I have seen a great many things that I might once have considered impossible, or unbelievable. I find I no longer have clearly defined parameters for such matters."
---
I put off this book for so long because I was scared it would be too whimsical or bogged down by fanciful writing that detracted from the characters, I have never been so happy to be wrong. We follow a behind the scenes competition between two young magicians, Celia and Marco, caught in tangled web where one must lose everything they love to win their right to survive. The Night Circus is a story of wonderment and destiny, colliding in a glorious setting where magic is possible.
---
Things I Liked 
The writing is absolutely beautiful. I loved not only getting to see POVs from circus performers, the proprietor, and visitors, but the articles written about The Night Circus and the storytelling elements woven throughout captivated me and made me truly feel a part of the story. I could imagine myself waiting to enter the tents and see all the magic and wonder. It was so immersive and alluring.
For being a 500+ pages book (at least in this format), it reads so quickly. When I picked the story up, I was transported and I didn't want to put it down.
There were so many fantastic characters in this story. I loved the main players like Celia and Marco, but each character plays such a vital role to the plot and the circus itself that I feel like I know all of them. Tsukiko, Bailey, and twins Poppet and Widget were among my favorites. All the characters intersect in unexpected ways that seem inevitable and add to the atmosphere of the story.
Speaking of atmosphere, Le Cirque de Rêves is truly one of the most enchanting and captivating settings. But even traveling beyond its borders, the mysticism of the circus permeates all around it and unifies the story through amazement and wonder.
---
Things I Didn't Like 
Even though this story did read incredibly quick, I found myself skimming over small passages that really seemed mostly like filler. It wasn't often, but I could skip a paragraph or two, or half-read a page and lose nothing in the story. That tells me it probably could have been edited down a bit.
---
Even though I did find some parts of the story slower, everything came together to create this fatastical tale of fate, magic, and love. The Night Circus is truly one of the most magical books I've ever read and made me feel like anything is possible.